So, at what height did the Vulture 1 actually release? Well, you can imagine that we were a bit gobsmacked when we checked all the footage from the main payload vid camera, and saw this quite remarkable moment:
Our initial edit, without sound, indicated only that the release came at some considerable altitude. Having calmed down a bit, we compared the video running time from launch to drop to the balloon data timeline.
The result was that the Vulture 1 released at over 89,000ft, or just about when the balloon went pop around one hour, 25 minutes after launch. If we'd been paying attention to the video soundtrack in the first place, we'd have caught the bang:
Terrific stuff. It's now evident that the PARIS Playmonaut successfully guided his craft down from a maximum altitude of 89,591ft, to a textbook woodland landing.
Why the plane didn't release before remains unanswered. The mechanism clearly worked, or the Vulture 1 would have come down with the main payload.
It appears the shock of the balloon burst shook the space plane free - perhaps it was frozen to the underside of the main payload box? Further forensic examination may reveal the truth, but for now we'll leave it to you lot to chew it over.
Finally, the fact that the Vulture 1 landed close to the main payload (.kmz) was, given the height they separated, both coincidental and an amazing piece of luck.
Either that, or we faked the whole thing at NASA's Nevada desert space conspiracy facility, including this impressive view enjoyed by our heroic Playmonaut: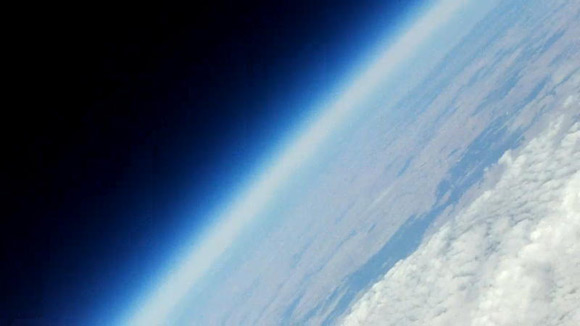 We'll have more video and snaps for you later in the week, in a comprehensive PARIS wrap extravanganaza. ®
Additional PARIS resources
Our dedicated PARIS section, with all previous updates, is right here.
New to PARIS? We have a basic mission summary here (pdf).
Our Flickr page, for your viewing pleasure.
Check out our lovely YouTube channel.

Sponsored: Practical tips for Office 365 tenant-to-tenant migration