This article is more than 1 year old
Asda prices up Elonex 7in Android tablet
Yours for £97
If you fancy a cheap - 2GB of storage, resistive touchscreen, poor battery life - Chinese Android-based 7in tablet, Asda has begun selling the Elonex e-Touch.
Yours for 97 quid - plus a fiver more if you want it delivered - the gadget has a Micro SD card slot for more storage and 802.11b/g Wi-Fi for network connectivity. It runs Android 1.6.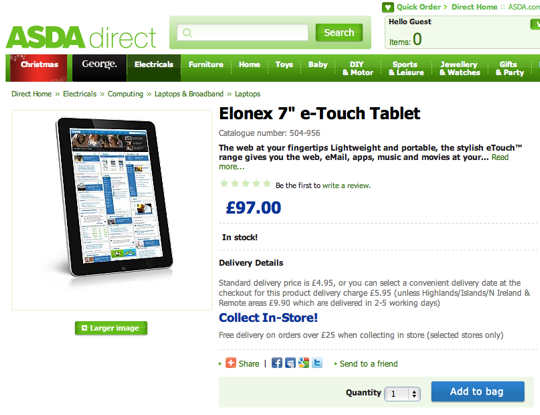 The device weighs just 350g and measures 203 x 137 x 15mm.
It's essentially the same machine as all the other cheap-as-chips Android tablets popping up.
The huge marketing momentum behind the iPad will, of course, persuade many of Joe Public's less technologically savvy siblings that tablets are the Christmas gift of 2010, so Asda will probably flog a ton of these in the run-up to the festive season, especially at such a relatively low price. ®