Wayward Widgets
I found the "live" widgets as troublesome as ever. It's even more rigid because previously you could opt for the widgets, or a clean screen. One nice idea Nokia implemented by default on the X6 I reviewed in February was a space for contacts. This showed recent activity related to a contact, and you scrolled horizontally between favourites. This was a nice, practical idea, but it's gone. I soon gave up on these widgets and pretty much the home screen altogether.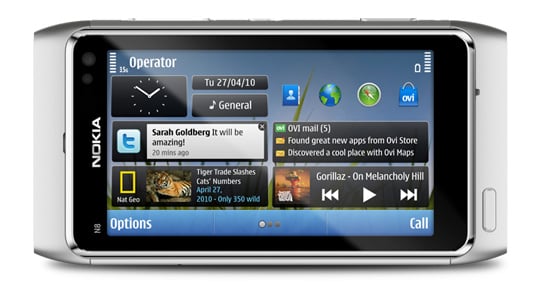 Nobody home: some useful screen features found on other models have been removed
UX is more than just the look and feel of the UI – it's performance, consistency, and ease of finding settings. Here it's a mixed bag. One infuriating and confusing legacy issue is connectivity. Like its predecessors, the N8 couldn't remember a Wireless Access Point at odd times, even if the access point was available and active.
The performance of the landscape Qwerty keyboard has improved, but remains quirky. It takes up the full screen, so it isn't possible to see (for example) the SMS you're replying to, or the Captcha code you're trying to enter. You need to go to two separate settings – one only available through applications – to recreate the familiar behaviour of iPhone or Android keyboards, for quite bizarrely, word prediction is off by default, and it won't use the spacebar to accept suggestions unless you change another setting. And with the landscape Qwerty taking up the full screen, you'll find that you need to make two confirmations: one to get rid of the keyboard, and another to accept the text.
Apps is another area where the stitching shows. On the positive side, the N8 retains compatibility with older S60 5th Edition software. Some of these are very good quality, such as ProfiMail, DreamConnect and Gravity, Skype, and a native Opera Mobile. A native iPlayer, as I mentioned, is built-in. That covers a lot of ground, and if it encompasses all you want to do, you're probably going to be fine. But if novelty and choice is as important as quality, you'll find the Ovi Store lags far behind Android Marketplace and Apple's App Store.
Ovi has a dearth of native applications. Where's Plane Finder - where you can point to a passing plane and read off its ADS-B information? Where's the point and tap astronomy apps? There are a lot of fun and interesting apps, but the developer base has moved on, and the Ovi store has few of them.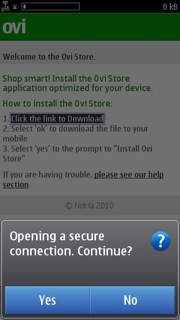 The Ovi store has improved, but is still laborious
Nokia's makeshift solution is to use clunky native run-time widgets, but these lag far behind the performance and functionality of (say) the eBay and Facebook Apps on the rival platforms. Stitching and joins are evident elsewhere. For example, SMS finally gets a threaded "Conversations" view, but it doesn't integrate well – it's really a separate application. The web browser remains far below par, but apparently is due a major update this month.