ViewSonic tablet defies death by Steve Jobs
Seven inches can't satisfy Apple boss
ViewSonic made it official on Monday: their seven-inch ViewPad tablet will arrive in the US before the end of the year — despite the fact that Steve Jobs says seven-inchers are "dead on arrival."
"I think in this case he may be a little afraid of this category," ViewSonic marketing honcho Adam Hanin told Laptop, "And he's finding whatever he can to attack because he sees [7-inch tablets] as a challenge to the dominance of the iPad."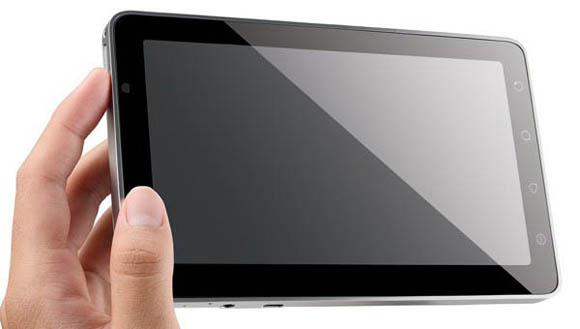 Steve Jobs says seven inches isn't enough, but we think it looks comfy
ViewSonic is hedging its seven-inch bet with a 10-incher, as well — and in addition to their size differences, there are other aspects of the ViewPad 7 and ViewPad 10 that make them dissimilar animals.
Their operating systemes, for example — the $479 ViewPad 7 will appear in the waning days of this year running Android 2.2, aka Froyo. The $629 ViewPad 10 will arive in the US later than the seven-incher — in the first quarter of 2011 — but it'll have an earlier operating system: Android 1.6, aka Donut.
But here's the kicker: as we told you back in September, the ViewPad 10 will be a dual-boot machine, with the alternate operating system being Windows 7 Home Premium. Or is Android the alternate OS? Whatever...
In addition to its Microsoftian OS, the ViewPad 10 has other netbooky attributes, such as a 1.66GHz Atom processor, 1GB of RAM, and a 16GB SSD that's supplemented by a microSD card slot.
In a microDig at the iPad, ViewSonic's announcement notes that the ViewPad 10 "is ideally designed to view Flash-based content and Office programs with Windows," adding also that it's just peachy "for an optimized mobile entertainment experience with Android."
The 10-incher's capacitive multi-touch screen has a resolution of 1024 by 600 (the iPad's display is 1024 by 768), and the device includes a 1.3-megapixel camera (the iPad's camera is ... oh, right — the iPad doesn't have a camera).
The ViewPad 7 — the one who's death was predictably predicted by Jobs — comes with 3G support (ViewSonic calls it 3.5G, but we're not going to play that game), plus Bluetooth and Wi-Fi — which, by the way doesn't have 802.11n chops, just b/g.
Like the iPhone and BlackBerry PlayBook, the ViewPad 7 has both front- and rear-facing cameras — though the PlayBooks 3-megapixel front and 5-megapixel rear cameras handily out-spec the ViewPad 7's 0.3 and 3-megapixel sensors.
ViewSonic is positioning the ViewPad 7 as "the ultimate device for connected fun and multitasking — in a compact size easier to carry than a netbook and with better media performance than a smartphone." Whether it can stretch out from that middle position to touch both markets, or simply fall into the abyss between them, we'll find out later this year. ®