Fedora jumps on Amazon's cloud
There is one thing missing in this release: Fedora no longer ships with the Pino social network client. Its absence is probably due to the fact that Pino hasn't yet updated to Twitter's new OAuth system, but the fact that Gwibber wasn't dropped in its place suggests perhaps Fedora is dropping the idea of including a Twitter client. Frankly, given Fedora's overall focus on development tools, Pino did feel a bit out of place.
Naturally just about any major GNOME app you'd like to install - including Pino 0.3 when it's finalized - is available in the Fedora repos.
Fedora 14 is moving into the cloud. The Fedora Project is releasing Fedora 14 as an Amazon EC2 image - a boon for developers. Until now the most recent Fedora release available for EC2 users has been Fedora 8 - if you wanted a more recent version of Fedora on an EC2 instance you had to install it yourself.
The new concurrent release schedule means that moving your projects from local servers into Amazon's cloud can be as easy as copying a few files to Amazon servers.
This release will also see the expansion of Fedora's netbook spin, integrating MeeGo for mobile devices. For most users that means netbooks, though MeeGo has also been adopted by Nokia for use on mobile phones.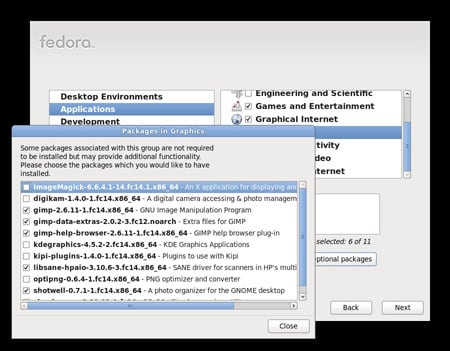 Best Linux installer ever? Ubuntu could learn a few things from Fedora
For Fedora 14 the core MeeGo 1.0 packages are all available either as a separate spin or through Yum with yum groupinstall meego-netbook. The MeeGo integration builds on the foundations laid by the Moblin spin in previous Fedora releases.
As usual, Fedora 14 offers your choice of desktops, including GNOME 2.32, KDE 4.5, Xfce 4.6.2 and even Sugar 0.90 if you feel like trying something totally different - Sugar is probably best known as the operating system of One Laptop Per Child.
After GNOME, the KDE spin sees the biggest set of changes in this release, with version 4.5 now including the WebKit rendering engine in its libraries. That means KDE now has system-wide WebKit support that works much like the older KHTML framework, allowing any app to take advantage of WebKit for displaying content.
It's also worth mentioning that Fedora still has the best Linux installer I've used, with the option to customize and tweak your installed software before installation. It's something Ubuntu should really consider offering.
Popular scripting languages like Python, Ruby and Perl have all been updated to the latest stable releases. The updated Ruby packages mean that Fedora 14 will support Ruby on Rails out of the box.
For Python developers the ability to run Python 3.0 alongside older versions - which was introduced in Fedora 13 - remains available, making it easy for those looking to upgrade code without the need to install Python 3.0 from scratch.
Fedora 14 will also include support for D, a systems programming language that, according to the release notes, combines the power of C and C++ with the productivity-friendly approach of modern scripting languages like Ruby and Python.
Fedora versus Ubuntu?
It's been quite a year, with the polished Ubuntu 10.10 interface and new versions of Ubuntu. Is it fair to compared these two desktop rivals, though?
In some ways it's an apples to oranges comparison, so the answer is "no". On the surface Fedora looks more sedate and isn't as pretty as Ubuntu out of the box. But when it comes to desktop Linux, does anyone use the default theme?
It's under the covers where Fedora starts to look more appealing - with everything from the awesome color management tools that landed in Fedora 13, to the new virtualization and photo speed improvements found in this release.
While it may lack some of the flashier "everyday user" features Ubuntu has been focusing on, Fedora is still a very user-friendly distro, especially for those just looking to get work done without the bells and whistles of Ubuntu.
In the end both are great desktop releases, the main difference is that Fedora has more to offer once you scrape below the glossy surface. ®
Similar topics