Although Apple may seem to be riding an unending wave of success after success, a new study shows that its worldwide market share is slipping.
"Mac usage share globally has been in a slow decline over the past several months," say the analysts at NetMarketShare, "dropping below 5 per cent in October."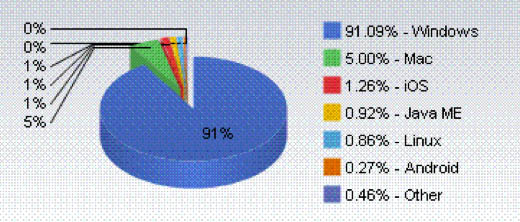 Worldwide, Mac OS X market share is slipping
Those are worldwide figures — in the US, the story is different: "However, in the US Mac share is increasing," concludes the same report, "reaching 11.41 per cent in October from 11.32 per cent in September and 11.20 per cent in August."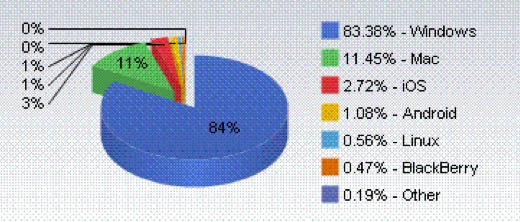 In the US, however, Mac OS X market share continues to increase
Apple stock has closed at over $300 every day since October 13, it recently became the world's second largest company in market capitalization, and it reported revenues of over $20bn during its most recent fiscal quarter.
But if NetMarketShare's numbers are correct — their stats come from analysing web usage of around 160 million visitors per month — Cupertino's worldwide share is shrinking, not growing.
A few other NetMarketShare stats are of interest, as well:
Linux adoption in the US is less than two-thirds that of the world as a whole.
iOS use is more than twice as high in the US than it is globally.
US Android use is four times as great as it is worldwide.
Of course, all of these numbers are inexact, based as they are only on web usage. Still, they do provide a general sense of how operating systems are trending — and those trends imply that that Mac OS X is doing quite well in the US, but that Windows and mobile competitors are tightening their grip worldwide. ®