Haven for life found in Mars' Syrtis Major region
Boffins peer at Hesperian 'warm, wet spots'
---
Boffins sifting data from a survey craft in orbit above Mars say they have found evidence of "warm, wet spots" which would have been refuges for Martian life as the red planet changed from a hospitable world to a freezing desert billions of years ago.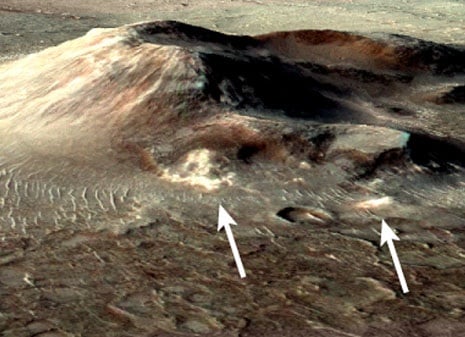 The joint was jumping back in the Hesperian era.
The evidence comes in the form of an especially promising deposit of hydrated silica, spotted on the flank of a volcano located in a caldera named Nili Patera, one of the landmarks of the Syrtis Major region.
J R Skok, grad student at Brown uni in Rhode Island, believes that the hydrated deposit was left by warm waters "during the early Hesperian period", when Mars was turning cold and arid between 3 and 4 billion years back.
"The heat and water required to create this deposit probably made this a habitable zone," contends Skok. "If life did exist there, this would be a promising spot where it would have been entombed — a microbial mortuary, so to speak... Mars is [then] just drying out, and this is one last hospitable spot in a cooling, drying Mars."
The Mars Reconnaissance Orbiter, sweeping past high above, initially detected the silica deposits using its cameras. Skok and his colleagues then probed the volcanic cone further using readings from the spacecraft's CRISM (Compact Reconnaissance Imaging Spectrometer for Mars) instrument.
"We can read a series of chapters in this history book and know that the cone grew from the last gasp of a giant volcanic system," says John "Jack" Mustard, geological sciences prof. "The cooling and solidification of most of the magma concentrated its silica and water content."
According to a statement issued by Brown uni:
Silica can be dissolved, transported and concentrated by hot water or steam. Hydrated silica identified by the spectrometer in uphill locations — confirmed by stereo imaging — indicates that hot springs or fumaroles fed by underground heating created these deposits. Silica deposits around hydrothermal vents in Iceland are among the best parallels on Earth.
"The habitable zone would have been within and alongside the conduits carrying the heated water," argues Scott Murchie of Johns Hopkins uni, who also worked on the research.
The scientists' paper can be read here by subscribers to Nature Geoscience. ®