This article is more than 1 year old
Philips Streamium MCi900 DVD and Wi-Fi Hi-Fi
Entertaining concept
Review If you're after rather more up-market multifunction home entertainment rig, then the Streamium MCi900 from Philips is aimed at you. For £999 you get combination of upscaling DVD player with a 160GB HDD along with an 802.11n wireless media streamer, RDS FM radio, 2 x 50W RMS amplifier, a 3.5in LCD screen and a couple of the funkiest bookshelf speakers you are ever likely to see.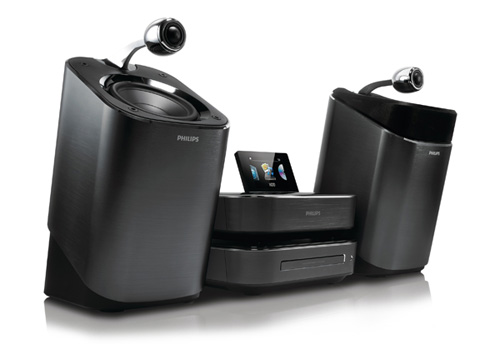 Sound device: Philips Streamium MCi900
Expensive the MCi900 may be, but at least it looks like it cost a bob or two. The two main units and the speakers are all finished in brushed aluminum and high quality gloss plastics, which makes everything cool to the eye and solid to the touch. Yet it's the speakers that really grab the attention though, with their forward canted stance and floating tweeters.
Rather than build the hard drive into the system Philips supply it as a stand alone unit that you can easily disconnect and then attach to your PC using USB to transfer files. I, for one, have got external hard drives coming out of my kazoo and so would much rather Philips hadn't bothered with supplying a drive and bundled an iPod dock instead.
Control is achieved by a combination of a decent remote and a 3.5in colour LCD screen situated in the top of the upper of the two system units. The display sticks up in a manner similar to that of the Sony Gigajuke but without the fold down option.
If the remote is not to hand all the major navigation controls are duplicated on the deck in front of the LCD. The crisp and colourful 320 x 240 display does a good job of letting you know what's going on at any given moment and displays album art and Internet/FM radio information as appropriate.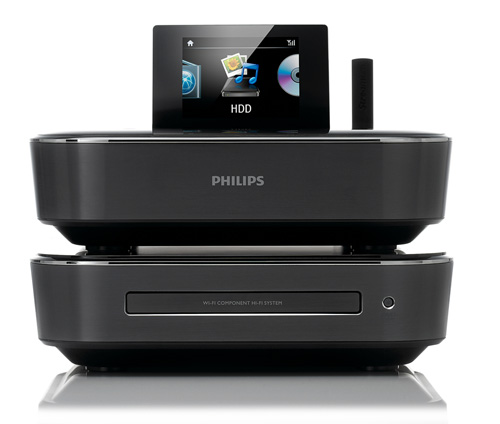 160GB HD included, but no iPod dock
Digital file support extends to JPEG image files, MP3, Ogg Vorbis, WMA, AAC/AAC+ and Flac audio – all DRM free naturally – and DivX video. Sadly though, that last option means DivX encoded discs, not digital files held on external storage. In my book this is a major failing. After all, if you are building a system that can play video from disc, why not include the capacity to play video from file?