This article is more than 1 year old
Shut up, Spock! How Battlestar Galactica beat Trek babble
TV science adviser talks Cylons with El Reg
Interview No guns firing beams of light. No photon torpedoes. And, sorry, no aliens – menacing or otherwise. The "re-imagined" Battlestar Galactica that concluded last year couldn't have been further from its 1970s namesake – or from what most of us think of as sci-fi.
In fact, the science and technology in the award-winning show – the story of survivors of a human civilization fleeing a nuclear holocaust unleashed by machines and now searching for a new home called Earth – couldn't have been more hidden or more familiar in some cases.
What we got was guns firing lead bullets, battleships hurling nuclear missiles at each other, and a space vessel - Galactica - that was more mauled aircraft carrier than sleek ship.
The reason? BSG creator and executive producer Ronald D. Moore ruled that there would be no technobabble - no sciency-sounding words or theories that sci-fi geeks typically feed on.
Moore has written for Star Trek Voyager, and he believed that story development in the series had been hindered by the sort of Roddenberrian nonsense that was used to explain how the original USS Enterprise worked. The result: BSG was barely science fiction - at least to purists.
At the same time, Moore hired a science adviser - Kevin Grazier - who works on NASA Jet Propulsion Labs' Cassini mission to explore Saturn's system, has six university degrees in science and computing to his name, and packs a background in naval aeronautics under his belt. Moore wasn't messing around when it came to getting the "facts" right.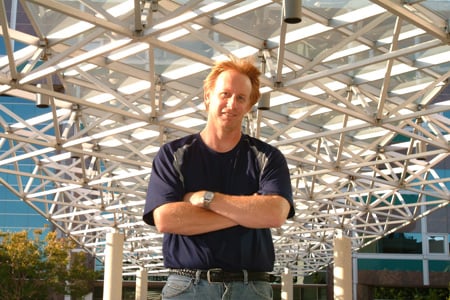 Kevin Grazier, Galactica's science adviser
Grazier's job was to help keep the technology and science real and credible - even when there were some massive leaps. Grazier didn't just make sure that there was a reason for what we saw - bullets instead of lasers - but also that when the science bit did break into the open, it was more mind-blowing than the writers could have conceived - such as when the humans discover their mechanical Cylon persecutors have evolved to look human.
Grazier – whose new book The Science of Battlestar Galactica finally puts geeks out of their misery by explaining the "hows", "whys", and "what ifs" – is blunt in explaining BSG's success. BSG, he says, was not a technology show.
This formula worked. BSG became a cult and critical hit. BSG was the first ever sci-fi show to earn a prestigious Peabody Award for its treatment of contemporary subjects. It won over fans of the 1970s original who were initially suspicious of Moore's plans for their beloved show, and BSG secured a rarity for any TV sci-fi creation: the nodding approval of members of the science community.
The Syfy channel now hopes to re-capture BSG's magic, having just commissioned Battlestar Galactica: Blood & Chrome, set in the 10th year of the Cylon Wars that predate BSG.
Talking to us about his book (written with colleague Patrick Di Justo), Grazier makes it clear that it's the details on science and technology peppered through the BSG script that helped sell the drama and defined Galactica's world. It was a world that – in terms of technology – wasn't too distant from ours.
In their book, Grazier and Di Justo span physics, computer science, navigation systems, metals, propulsion systems, weapons and warfare, and biology, as they explain what's going on behind the scenes in BSG.
Take lasers, a staple of any sci-fi. Grazier's book explains the physical limitations of firing the equivalent of an M-16 round in laser terms. He also dispatches the idea depicted in some sci-fi that being pulled into the vacuum of space will suck your eyeballs from their sockets or cause your organs to explode (thanks, Total Recall and Outland). Rather, you'll get a wicked case of the bends, which occurs when nitrogen bubbles enter the bloodstream. It can prove lethal to ocean divers who surface too quickly.
Grazier probes the technical networking and data-transfer capacities and requirements it might take for an entire Cylon to download for "resurrection." Grazier, the NASA man whose day job involves data transfers across some 743 million miles between Earth and Saturn from the Cassini craft, calculates this might involve terabytes per Cylon and take days to transfer - depending on your Wi-Fi connection, of course.
In space, not everything works
Their book also explains not just how things can and do work in space, but also how they might not: such as in one episode when Galactica plummets through a planet's atmosphere to launch a surprise attack. The resulting shock wave and the plasma enveloping Galactica's vaporizing hull would likely prevent the launch of her Viper fighters.
We're spared these kinds of details in the show, and the book's been written to answer those who keep hitting Grazier up for answers. BSG was primarily the story of humans driven to desperate and questionable lengths as machines evolve.
In the era of Iraq and George W. Bush, Abu Ghraib and WMD, in an age of paranoia and sneak terrorist attacks, BSG wasn't a story about spacemen. It saw supposedly civilized humans torture their Cylon prisoners, the military shoot and kill un-armed civilians to force them back to work, and vigilantes on Galactica blow human Cylon collaborators to a cold and airless death through an airlock. All the while, people got married. They had kids. They had affairs with other crew members. BSG was an epic of morality, motive, and humanity painted on the black canvas of space. But it didn't preach.