Finding a fictional Earth
NASA's man admits this is science fiction not science fact and that he doesn't really have an answer for this kind of travel, but it worked in the context of BSG. "If I really knew how it worked, I'd be in Stockholm," he said, meaning he'd have received a Nobel Prize. "But it's more of an explanation that you get in most sci-fi shows."
Grazier's work on NASA's Cassini also comes through in the show and this book. Cassini started as a four-year mission to explore the Saturn system, including the gas giant's moon Titan. The Cassini craft launched in 1997 and the hardy little machine's job has now been extended a third time, to 2017.
Cassini has been capturing and sending back images of Saturn, its rings and moons, which you can see here. As investigation scientist on the ISS visual-light camera that captures those images, it's part of Grazier's job to help capture those images by making sure Cassini's in the right place at the right time. Otherwise, you get a black screen.
When Galactica's producers got serious about finding Earth, Grazier was called in to give a talk to the writers on astronomical signs, portents and landmarks that could be used to find or reference the way to Earth. His work came to paint the backdrop for an important part of the show - the humans' zeroing in on Earth's part of the galaxy.
"We looked at clusters, pulsars, different colors of stars, supernovae - and they were all incorporated into the search for Earth, as breadcrumbs along the way on the path to Earth," he said.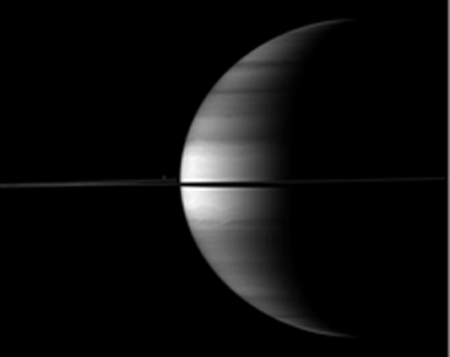 Saturn as seen by NASA's Cassini: a breadcrumb home for Galactica
In one storyline spanning two episodes, ace-but-troubled Viper pilot Starbuck is lost on what the writers described as a "Titan-like moon orbiting a Saturn-like planet." "That wasn't my idea," Grazier was quick to point out. "But I was able to provide some input into those two episodes, so there was some indirect Cassini influence."
Starbuck proceeds to be troubled by visions of a gas planet surrounded by rings, with a trinary star system and a comet. That gas planet is clearly Saturn. Polaris – our North Star and a navigation aid to sailors for centuries – happens to be a trinary star system composed of three stars. Starbuck's visions are controversial, even sparking mutiny, but they do lead to the humans' discovery of Earth. "The rings around the planet were supposed to be a big deal... that's based on Cassini. Unless you look very carefully you will never see it," he said.
Grazier's influence wasn't always so subtle. In one cliffhanger storyline, Galactica was separated from its rag-tag fleet of civilian ships and fellow survivors. "The writers said: 'Here's what we want to do: separate Galactica from the fleet. How do we get into it, and how the hell do we get out of it, and we have to incorporate in that jumping back and we also have to incorporate fighting off Cylons while we do it'," Grazier said.
Grazier's inspiration: Cassini.
"When we image a small moon - something that's not in a well defined position - we will always update the best-known coordinates of the last position of the spacecraft so you can target it and you are not getting a blank image," Grazier said.
He needs Cassini to be pointing in the right direction at the right time to grab a particular image. The distance between Cassini and Earth is some 743 million miles at its closest point, so anything less than absolutely precise coordinates means you miss getting the image.
"I thought: 'What happens if they do something similar', they are sending up the co-ordinates constantly to update the jump coordinates in case of an emergency and the 'minus first version' didn't get updated, and though: 'That would explain it'."
"This is from special relativity: there is no fixed frame of reference in the universe, so instead you have to move everything backwards, to integrate backwards, which is what they did when they [Galactica] went back to Caprica [the humans' home planet nuked by the Cylons and abandoned in the search for Earth] to figure out the coordinates and jump there to rejoin the fleet."
Here comes 'the science' bit
It's a complicated situation – and one that could easily fall victim to technobabble if one tried to explain what was happening.
Yet, while technobabble wasn't allowed, scientific language and reasons were woven into the dialogue by way of explanation. "A lot of writers feel if you get into too much of the exposition you can get boring, but at the same time the writers we had in Galactica could incorporate it into natural dialogue instead of going," Grazier effects a loud staccato voice: "'OK. I'm going to tell you what's going on now'." Then he returns to his usual voice: "The explanation was worked naturally into the dialogue more often than not."
This attention to scientific detail didn't just help carve out a niche with fans and critics, it also helped BSG score credibility among members of the real scientific community if not web nerds