Space shuttle Discovery will not now launch on its STS-133 mission to the International Space Station until tomorrow (Friday) at the earliest.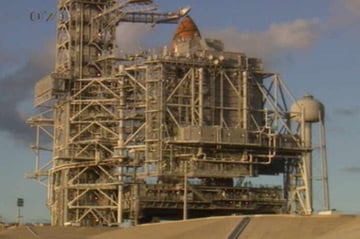 The venerable vehicle's swansong has has been postponed due to the weather at Kennedy Space Center, NASA explains. If the agency does green light a lift-off for tomorrow, it'll be at 19:03 GMT.
NASA describes Discovery as a "workhorse, ambassador, scientist and equal opportunity emissary", which has so far spent 352 days in space on 38 missions.
Highlights of its long career, which began in 1984 with the STS-41D mission, include the first shuttle visit to Russia's Mir orbiting outpost, lifting the Hubble Space Telescope, and delivering the Japanese Kibo laboratory to the ISS.
STS-133 commander Steve Lindsey said of Discovery's final flight: "We're wrapping up the Space Shuttle Program. Besides the excitement of completing the International Space Station and all the things we do, I hope people get a sense of the history of what the shuttle is and what we've done and what's ending. Because they'll probably never see anything like it flying again."
Lindsey, pilot Eric Boe, and mission specialists Alvin Drew, Tim Kopra, Michael Barratt and Nicole Stott are tasked with delivering the Permanent Multipurpose Module, formerly known as the the Leonardo Multipurpose Module, for attachment to the ISS's Unity node.
Discovery is also carrying the Express Logistics Carrier 4 and "critical spare components".
A teary-eyed NASA pays tribute to Discovery with a retrospective here and career photo gallery here. ®