Mobile-app developers are gearing up for an Android push next year, with the rise of Google's mobile operating system likely to push iPhone app-development activity into second place behind the Mountain View juggernaut.
According to a survey released Thursday by mobile-ad firm Millennial Media, developed in conjuntion with the tech folks at Digiday and an analyst from Stifel Nicolaus, the iPhone accounts for 30 per cent of development effort in 2010, with Android accounting for 23 per cent.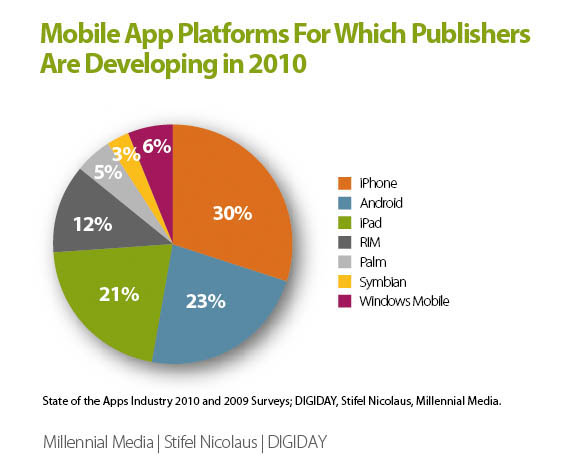 The iPhone remains the number-one platform of choice among developers — for now, at least
When asked about their plans for 2011, however, developers said that 29 per cent of their new-platform efforts would be devoted to Android devices, versus only 8 per cent for the iPhone.
Of course, since the iPhone already holds a lead in developers, its developer growth would naturally be lower than that of Android. But still, such a large disparity indicates that next year may see Android overtaking iPhone in the battle to win the hearts and minds of the all-important developer cadre.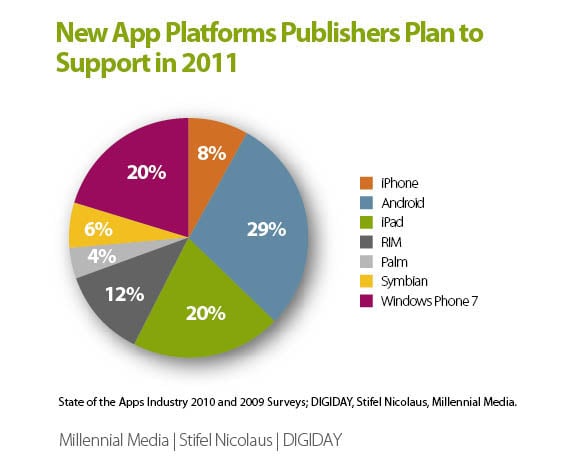 Windows Phone 7 accounting for 20 per cent of new dev activity? Hmm... We'll see
Apple shouldn't worry too much, though: the iPad will be embraced by 20 per cent more devs next year. iOS won't suffer a developer-defection hemorrhage, it appears.
Of particular interest among Millennial Media's figures is that Windows Phone 7 ranks equally with the iPad in the "What new platforms are you going to embrace?" race. Apparently Redmond is having some success in enticing devs with promises of riches and glory.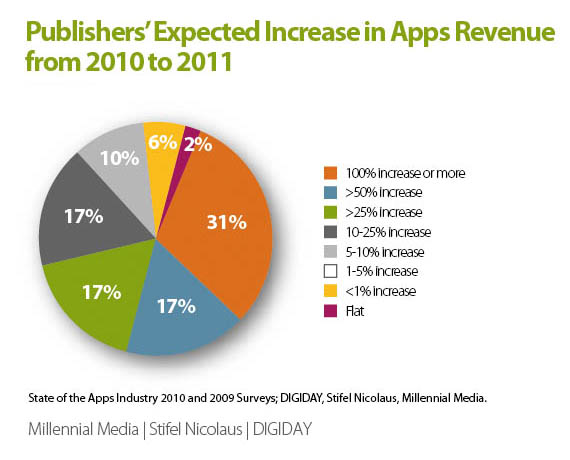 Optimism, thy name is 'mobile-app developer'
And, speaking of riches, mobile devs see their futures as rosy, indeed. A full 31 per cent of those surveyed expect their revenues to increase by 100 per cent or more, and none of the survey respondents saw their revenue decreasing — although 2 per cent said it'd be flat.
There is, apparently, no economic distress in the land of mobile apps. ®
Bootnote
Millennial Media describes themselves as providing "mobile decisioning, serving and mediation platforms" to advertisers, publishers, developers, and mobile operators.
Yes, "decisioning".
Similar topics