Pure Oasis Flow weatherproof DAB and Internet radio
Waterproof streams, anyone?
---
Review Pure's range of digital radios has typically included portable DAB models and several Wi-Fi equipped versions for streaming audio from your computer and access to Internet stations. Many are designed with portability in mind if you're inclined to splash out on the optional rechargeable battery packs. While the Oasis Flow might sound like some new kind of soft drink, it goes further than its predecessors by including a rechargeable battery as standard and cladding everything in a weatherproof casing.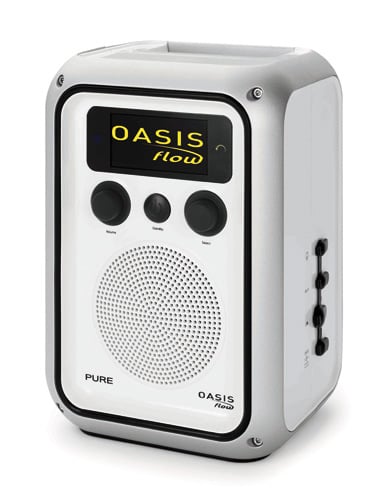 Batteries included: Pure's Oasis Flow
The modern looking, curvy cast-aluminium frame has rubber seals to withstand splashes or sprays. And, yes, I tested this with a handy watering can and it survived safe and sound. Weighing a fairly hefty 2.2kg it's not quite a go-anywhere radio but it makes a good sonic companion for the bathroom, garden, beach, etc. Sockets are sealable and include a headphone output and 3.5mm input for any audio gadget. There's no Ethernet port as it's made to be mobile.
Costing around £170, it's not cheap, though it's slightly less than Pure's non-weatherproof but otherwise similar Evoke Flow when you add the extra price of the Evoke's battery. Compared to Pure's older Oasis portable, this new incarnation adds network connectivity, an FM tuner and OLED display with vivid yellow-on-black text.
Parts of the display are touch sensitive, while responsive rotary controls handle volume and menu navigation. It's a good no-nonsense combination, though some aspects feel counter intuitive and I sometimes found myself jumping all the way back to the main menu instead of the list of albums or stations.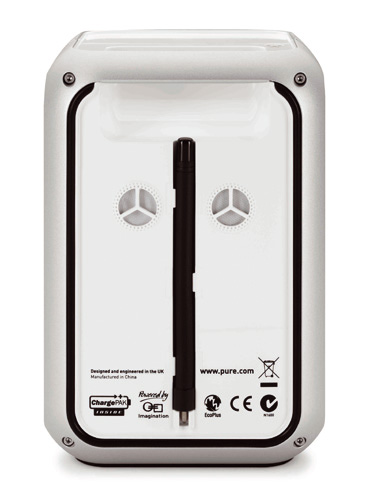 The detachable antenna tucks away neatly into the body
In line with most Pure radios the DAB reception is above average, helped by the generous 76cm telescopic antenna. For overseas use it adds DAB+ and DMB compatibility. There are 30 digital presets, 10 for FM and a roster of 16,000 Internet radio stations to choose from. To get the most out of the streaming capabilities, you need to register at the Pure Lounge online portal.