This article is more than 1 year old
Apple signs Xserve death warrant
Serve from a Mac instead, says Mac maker
Apple is canning its Xserve family of rack servers.
In a terse note posted on the Mac maker's website, the company that the platform will no longer be available to buy after 31 January 2011.
The move doesn't pave the way for a revamped product just after that date. "Apple will not be developing a future versions of Xserve," the company warned.
No reason was given for the death sentence.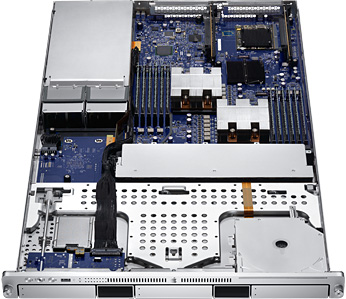 Instead, it hopes folk wanting to run Mac OS X Server will adopt either its Mac Pro or Mac Mini desktops, both of which are available in server configurations with extra hard drives and no optical units.
Apple pledged to continue supporting the Xserve platform, and will still sell you an Xserve up until the end of next January.
It offers two models: one with a single 2.26GHz, quad-core Intel Xeon and another with two of the chips on board. Both come with 3GB of memory and in get-you-started 160GB 7200rpm Sata drive. The two machines cost £2451 and £2941, respectively. ®