iTunes App Store sprouts 'Hall of Fame'
Criteria for inclusion? Unknown
---
Apple has added a new section to its iOS-centric iTunes App Store: a Hall of Fame.
Exactly how apps are selected for inclusion in the HoF hasn't been made clear, though MacStories got their hands on an Apple promo for the new section which says: "More than two years since launch, we're many apps wiser. Presenting the very best of the best."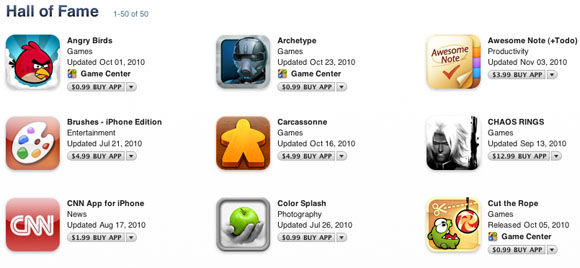 No, Angry Birds isn't ranked number one — the 50 Hall of Famers are listed alphabetically
In the new HoF reside such "classics" as Angry Birds, Evernote, Hipstamatic, and Ocarina, along with more-arguable inclusions such as Epicurious.
Today's HoF inauguration comes on the same day that Fortune weighed in on the ongoing argument over whether the iTunes App Store has passed 300,000 apps.
They say "No," by the way.
The exact number may be of interest to those following the Android-Apple arm-wrestling match, but for the vast majority of us, the difference between 299,999 and 300,000 is a wee bit esoteric — but no matter what the exact number may be, any help is navigating the vast morass of App Store apps, however subjective it may be, is welcome.
And before you ask, today's iPhone fart-app tally is 814. ®
Bootnote
We can't help but wonder if Jeff Scott of 148Apps fame will get a "cease and desist" letter from Apple's legal department, suggesting that he take down his own App Hall of Fame website. Or, for that matter, possibly Scott's lawyer will have a talk with Apple. After all, Scott's site is labled: "The App Hall of Fame is curated by and © Copyright 2010 148Apps".