Pentax X90 superzoom bridge camera
Telescopic sights
---
Review If you're shopping around for a compact bridge camera, then the Pentax X90 shouldn't be overlooked. The company entered the superzoom bridge camera market comparatively late with the X70, and the X90 revamp retains the design and a similar range of features. These include the 12.1Mp CCD sensor with sensor-shift image stabilisation, and a 2.7in LCD screen with a 230,000 dots resolution.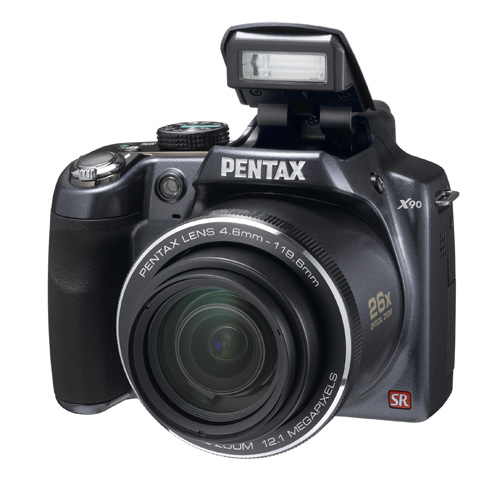 Magnifying glass: Pentax's X90
However, the X90 offers 720p HD video at 30fps, a 200,000 dots electronic viewfinder, a more powerful battery – increased to 1250mAh from the X70's 880mAh – and an improved optical zoom lens with an even broader focal range, 26x against the 24x of the X70. With the Pentax store offering it at £260 and a street price as low as £200, the X90 certainly has a lot going for it, not least its massive zoom range and compact dimensions.
At 428g with battery, the X90 is light and small, measuring 84.5 x 111 x 110mm with a blue-grey plastic body and a shiny chrome-finish top plate on the right hand side. It's one of the most compact superzoom cameras on the market, yet it feels comfortable and safe to hold, with ergonomically designed rubberised handgrip and thumb rest that have the most perfect natural fit.
The top plate includes the pop-up flash, power button, a nicely responsive zoom lever, a raised bottle-top mode dial and a DSLR-like dedicated exposure compensation button. A protruding viewfinder that sits just above the LCD screen dominates the back of the camera and projects an awkward shadow over the monitor in certain light conditions. The rest of the commands are well laid out with a navpad that also doubles as direct access to self-timer/drive, macro, flash and scene mode selection.
Just below the navpad there is Pentax's usual Green button – it also serves as delete command when in Playback mode – that initiates an easy menu with only basic settings to choose from whatever capture mode you are in. Alternatively you can customise it as an Function button.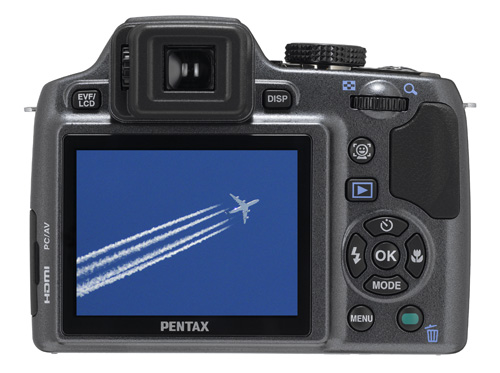 Familiar layout, but alas no dedicated movie recording button
As the X90 lacks direct access to ISO settings the green/fn button can prove quite useful. Other direct commands are Menu, Display, EVF/LCD, Playback and – to remind us that this camera is definitely not a DSLR – a superfluous Face Detection button. Surely, the absent movie record button would have been a better choice.