The X90 sports the whole array of user-friendly features typically found in Pentax's compact range. There is Smile Capture, Blink Detection – the Face Detection can identify up to 32 different faces in a fraction of a second – and a new Baby Mode. The D-Range setting helps minimise over/under exposure and you've a number of Digital Filters for artistic applications (B&W, Sepia, Colours, Extract Colour, Colour Enhancement, Toy Camera, Retro, Soft, Fisheye, Brightness).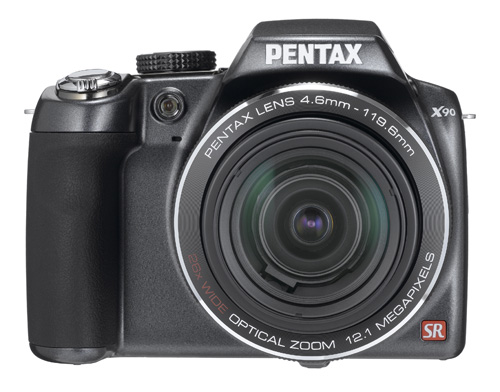 In-camera digital cropping techniques take the 26x optical zoom images up to 162.5x
Among the point-and-shoot options is a digital ISO-boosting mode that increases stabilisation by reducing resolution, which drops to 5Mp. Besides the Programmed AE Mode that selects the optimal aperture and shutter speed there's Auto Picture, which automatically sets the correct shooting mode for each given scene including macro. Other options include Scene, Sport and Anti-Shake with more creative manual or semi-manual modes available from control wheel above the thumb rest.
With good aperture selection and shutter speeds ranging from 4s to 1/4000s the X90 does have the potential to satisfy the enthusiastic photographer that wants to upgrade from the point-and-shoot without investing into a DSLR system. To increase flexibility, Pentax also added a pro-like macro mode that allows shooting close-up subjects just 1 cm away, which I found to be quite impressive in use. This function works only at the wide end of the zoom lens but it does produce a beautiful richness of detail.
The X90 has a very useful resolution selector that lets you reduce capture resolution, by increments, all the way down to VGA and a choice of four different image recording formats: 4:3, 3:2, 16:9 and 1:1. Alas, there's no RAW capture support. The LCD screen is quite sharp and bright with a decent angle of view and so is the viewfinder, although not really accurate enough for manual focusing.
This camera's best characteristic is certainly the new optical zoom lens that offers an effective focal range of 26-676mm at f/2.8-5.0. The build quality of the lens is excellent continuing Pentax's established tradition of manufacturing good affordable optics. It has a large dynamic range, edge-to-edge sharpness, almost no chromatic aberration and barrel distortion well within the expected levels. It is also surprisingly fast, traveling through its whole focal range in just under three seconds.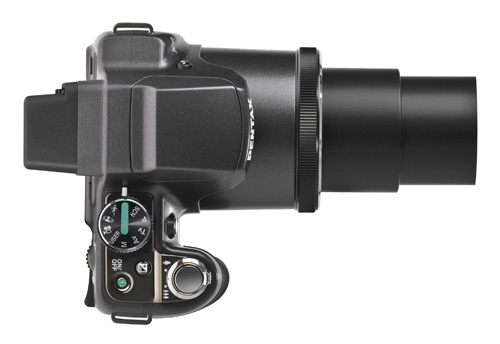 Besides various preset modes, there are manual exposure options too
To make this camera even more appealing to photo enthusiasts, Pentax has added what it calls an Intelligent Zoom function. If you keep your finger on the zoom lever, after arriving to the maximum focal length, the lens will keep magnifying the image, with increasing drops in resolution, up until a whopping 162.5x at VGA resolution (focal length 4225mm). The image of course is hopelessly degraded, as it is basically just a digital crop of the optical one, but if you are into 'binocular' photography this feature certainly adds a wow factor.