Opera has been honored in its native Norway for the game of chicken it played with Steve Jobs.
This week, as announced to the English speaking world by Opera man Haavard Moen, the browser maker was awarded a "Gullkornet," the Norwegian PR trophy, for the clever way it coaxed Steve Jobs into letting its Opera Mini browser onto the iPhone. The Gullkornet jury called it "a typical David vs. Goliath case, where a small player succeeds in exerting pressure the big one — something a lot of people thought to be impossible."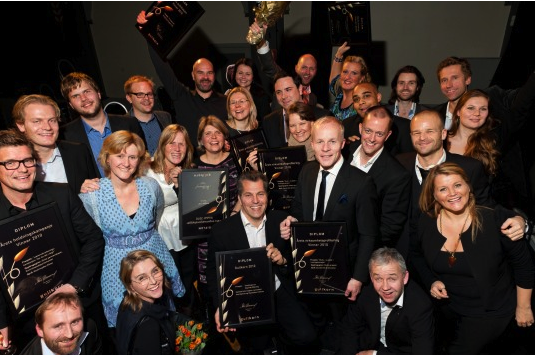 A crowd that includes two very happy Opera people
Famously, Steve Jobs has never allowed interpreted code on the iPhone. For years, this meant that Apple's WebKit-based Safari engine was the only browser available on the company's handheld status symbol. But as early as November 2009, Opera founder Jon von Von Tetzchner told The Reg that the Jesus Phone would one day run third-party browsers, hinting that Opera would be the one to break past Apple's App Store police. And just three months later, in February of this year, the company announced that it would demo a version of Opera Mini for the iPhone at the upcoming Mobile World Congress in Barcelona.
Many immediately assumed that Opera was off its rocker. But the move was far more clever than the world realized.
At the time, Opera Mini was solely a Java application. But Opera built a version for the iPhone that ran natively — and did not interpret code. Like Java incarnations of Opera Mini, it tapped Opera proxy servers that intercept and compress webpages before sending them down to the phone. This speeds download times — making the browser ideal for slow web connections — but it also means that Mini doesn't run its own webcode.
So, technically, the browser didn't violate Apple's terms of service. And in providing compressed data for low-bandwidth connections, it sidestepped Apple's then-unwritten rule that applications providing "duplicate functionality" to Apple apps already on the phone.
"The way we read the requirements and regulations, it clearly falls within that category of applications that can be approved...and it really is a different thing than iPhone Safari," chief development officer Christen Krogh told The Reg at the time. "It saves bandwidth. It makes it possible to surf the web when you're roaming on a network outside your native geography. And it's faster."
Of course, Apple also reserves the right to reject apps for whatever reason it likes. Opera's key move was that it unveiled the browser before submitting it to the Apple App Store. The Barcelona demo was just the first public demo, and it wasn't until the end of March that Opera finally asked for approval from the Jobsian App Store police.
Opera told the world that its browser met Apple's terms of service, and that for this reason, it expected the thing to wind up in the App Store. "We're not being cheeky," Krogh told us. "We think they will approve it." The company didn't say it was trying to force Apple's hand. But that's exactly what it was doing.
And it worked.
Last month in Oslo, Opera Mobile and Mini product manager Phillip Grønvold told us "you have to idea how much time we spent just trying to decide how we would [handle the App Store problem]." The extra thought paid off — in spades. "We are talking about a successful, Norwegian project on an international arena," said the Gullkornet jury. "Clever and creative thinking — very good visibility — and even with a big budget, it's not that much considering the major markets that were to be affected."
But if you're in, it doesn't mean you're always in. Since the arrival of Opera Mini on the iPhone, Apple has codified additional rules for the App Store, one of which reads: "Apps that browse the web must use the iOS WebKit framework and WebKit Javascript." And even Grønvold admits there's a worry that when it comes to Opera Mini, Steve Jobs might change his mind. ®