Best of Linux So far, in my look at Linux compared to Mac and Windows, I've covered music players, photo organizers, and video editors. But all those apps – and all the documents they create – are lost if your hard drive crashes, your laptop takes a spill, or some other catastrophe strikes.
If you have documents, you must have a backup solution - Mac users at least have the option of Time Machine and Windows offers Live Drive. In this final installment of my look at the Linux desktop, I'll assess how Linux stacks up against backup solutions for Windows and OS X.
To keep things simple, we'll divide backup options into two camps: those that backup to a disk, and those that backup to web servers. For the latter, there is some degree of trust involved. While all of the options I've outlined offer secure encrypted connection, if you still aren't comfortable with the idea, then web-based backup services are not for you.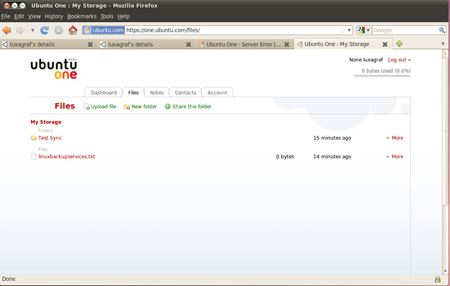 Ubuntu One: dead simple and nicely integrated with the desktop
Also remember that, as any good paranoid can tell you, one backup is never enough. Rather than deciding on one of these options, consider using several in conjunction for an even more fool-proof backup system.
Most Ubuntu users are probably aware of Ubuntu One by now. The service, launched with Ubuntu 9.10, gives Ubuntu fans a simple, cheap way to backup documents to Canonical's servers. In addition to simple backup, Ubuntu One can be used to sync files between your PCs.
Ubuntu One is dead simple to use and nicely integrated into the Ubuntu desktop. Once you set up an Ubuntu One account, your files will be backed up on the web and synced to any other registered Ubuntu computers. In addition to file syncing, Ubuntu One can also track your contacts, Firefox bookmarks and notes.
Ubuntu One is free for the first 2GBs of data and in our experience, while it's glitchy, it has never lost any of my data so it's at least worth turning on.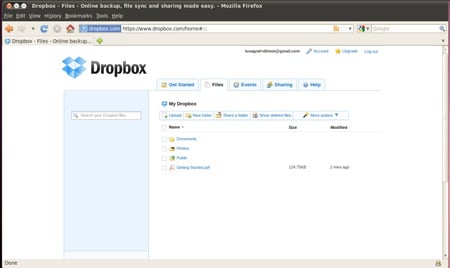 No hiccups: Dropbox lets you access your files, no matter the system
However, web access to your documents can be especially flaky. Upgrades rolled out with the release of Ubuntu 10.10 seem to have improved the overall stability of Ubuntu One, but it still has the occasional problem.
Ubuntu One also got a few new features with the release of Maverick Merekat, including the ability to stream music to Android devices. Unfortunately you won't be streaming for free. There is a 30-day free trial period, but after that you'll have to pony up $4 per month - plus any bandwidth charges from your mobile provider, depending on your contract.
Still, if access to your music on the go is something you'd like, Ubuntu One is the only solution here that delivers and the price isn't too bad - particularly if you've got an unlimited data plan on your phone.
While most of Ubuntu One's features are free, and work reasonably well, it's worth taking a look at the rest of the pack before you commit.
Similar topics