Opinion We're all screwed over this China rare earths thing, aren't we? After five weeks of withholding shipments, the Chinese seem to have let some of them go again, but if they can keep their precious cargo to ransom once, they can do it again, can't they?
The problem is, as those who stayed awake in chemistry class will know, that much of these whizzy modern electronic thingies that we all make our living with depend upon the lanthanides (those 15 elements in the funny little box at the bottom of the periodic table). Hard drives and windmills need neodymium for the magnets, CFL bulbs need terbium, MRIs need lutetium, CRTs need europium and so on – all the way down to metal halide bulbs needing the scandium that I deal with.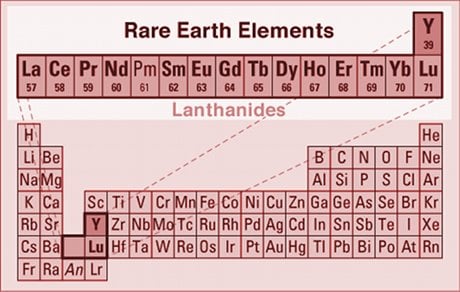 The further problem is that China currently produces 95 to 97 per cent of the world's supply of these metals – and if they're playing silly buggers with supply then WTF are we going to do?
While they say that they're restricting exports for environmental reasons (and to some extent they are, rare earth mining is a horrible, messy business), there's more than a suspicion that it's all part of industrial planning. If you cannot export the metals or the salts, but you can export things made from them, then all the work, the industry, of turning the salts and metals into products will migrate to China. This is along with all sorts of fat, highly paid manufacturing jobs – and it is not as if we really have a surplus of those at the moment anyway.
All of which would be a serious concern if it were not for two things. Firstly, rare earths (REs) aren't actually rare (nor are they "earths"). Secondly, technology isn't static. And there is a very plausible way in which we could obtain the REs we need for manufacturing.
Step one: As I've mentioned here before, it is possible to extract REs from that toxic red sludge that went splat over Hungary a few weeks back. We almost always find RE deposits associated with the titanium and zircon sands we already dig up for those respective metals. There's even a bit in the 150 million tonnes of coal flue dust we dump each year globally. This means that everyone and their mother who can float a junior mining company (which, given the current hysteria, really is just about everyone who can talk to a stockbroker without gagging) is hacking away at some part of the earth or other. Greenland, under frozen lakes in Northern Canada, parts of India. Someone even had a peek into an old mine in Derbyshire just to see what was there (erm, me actually). Then there's also various serious and sensible people, like Molycorp in California, Lynas at Mount Weld in Australia, and Arafura in Oz again: any one of those three alone can and will supply 20 per cent of current global demand once up-and-running.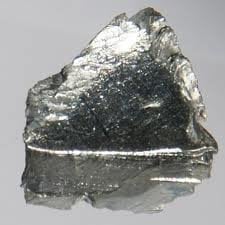 Lutetium is used in the manufacture of magnetic
resonance imaging systems.
So while we may have a little bit of stuttering over the next couple of years, there's no long-term shortage of REs. Well, OK, there's no long-term shortage of the basic ores and concentrates. Here is where we get to the technology part of it all. There are three stages to the industry: the mining, as above, then there's the separation of the lanthanides, each from the other. Chemistry is all about the number of electrons in the outer ring of the atom and as the lanthanides all have that same number, we can't really use chemistry to separate them. We have to use some physical property. What we currently do, and China is really the only place left that does it (there's an outpost in Malaysia) is boil the ores up in lovely strong acids and then use multiple iterations of solvent extraction. To fully separate the ore can take thousands of iterations. This is a labour-intensive, dangerous and polluting activity: just the sort of thing that China is going to be good at.