This article is more than 1 year old
Apple MacBook Air 13in late 2010
Boots in a flash, but you'll need a lot of cash
Review When Apple introduced the MacBook Air in January 2008, one of the biggest price hikes in its build to order options was the choice of a 64GB SSD. Those with slightly shallower pockets for this slimline ultraportable wouldn't hesitate to opt for the 80GB hard drive version instead. Yet if you're tempted to take the Air today, you'll have no choice apart from capacity, as it's SSD all the way.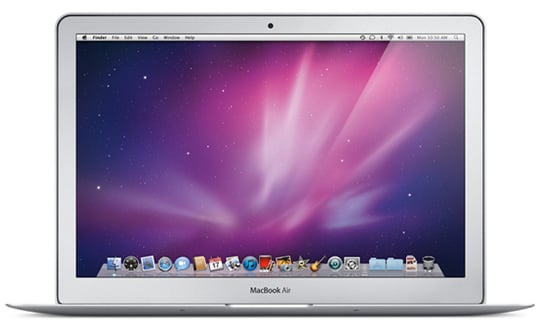 Light breeze: Apple's MacBook Air 13in
Indeed, the finely tapered wedge that is the new 13in MacBook Air is thinner and lighter because of this. With no need to make room for a hard disk, Apple discards any SSD enclosure and mounts the naked flash chips above motherboard. It's a move that has just about all the circuitry covering a third of the base at the fat end of the wedge, with the rest given over to the battery cells. The 11.6in model is fitted with a 64GB or 128GB SSD, but the 13in model has either 128GB or 256GB capacities.
So if you've glanced at the spec and noticed a few similarities with the previous Air, then the main changes Apple is flagging up here, besides tweaks to size and weight, are battery life and startup times. With the latter, from sleep it's ready to go within moments after the lid's fully opened, and booting from cold, the digits on two hands and on foot should suffice to count the seconds.
When trying to marry concepts in both the Mac and the iPad, Jobs and co. were at great pains to point out that touch devices work well as a pad (be it a trackpad or bearing down on a touchscreen) but not on a vertical computer display. Fatigue plays a part, and I have to say I'll go along with that. So the new Air gets the same sized glass trackpad as the MacBook Pro range.
This single clickable pad supports multitouch gestures to perform a range of tasks. Press with two fingers and it's a right click, but if you just drag, it scrolls in any direction. A four-fingered swipe allows you to switch between apps, but swipe down and Exposé kicks in to show all open windows in miniature, filling the screen. Once you get in the habit of using these gestures, it feels like an imposition when moving to more conventional trackpad arrangements.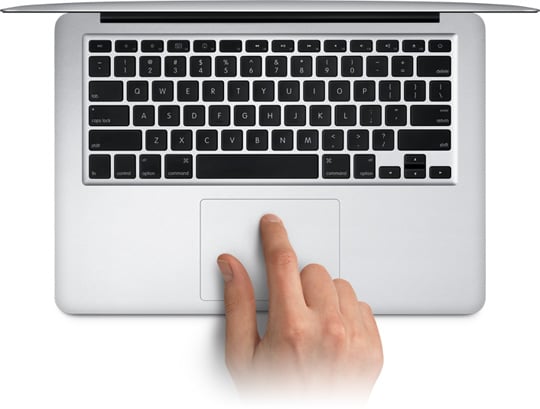 Ultra portable, yet retains a full-sized keyboard
The full-sized keyboard featured on the new Air has foregone the backlighting of previous models, which no doubt impacts on cost and battery life. With the key dimming function keys now absent, Apple has the far right function key performing the power on duties. Gone is the flush circular power button in the body, which, while a bit of surprise, is certainly no great loss.