This article is more than 1 year old
Marvell fires first shot in ARM-x64 server scrap
Armada XP cruisers versus Xeon battleships
Chip maker Marvell, which acquired the Xscale ARM RISC chip business from Intel in 2006, is now officially gunning for the chip giant in the market for low-powered, cloudy infrastructure servers. If there is such a market.
At the ARM Techcon 2010 in Intel's hometown of Santa Clara, California, Marvell unveiled its quad-core Armada XP processor, which it claims offers up to five times the performance per watt as an equivalent (but unspecified) server chip from Intel.
The Armada XP chip is based on the ARM v7 MP core created by Marvell, which is a licensee of ARM Holding's various Cortex ARM processor designs. The 32-bit Armada XP is implemented in 40 nanometer wafer baking processes and has four cores running at 1.6 GHz with a shared 2 MB L2 cache memory for data to play in.
The chip will include variants that support 64-bit DDR2, DDR3, and DDR3 low-voltage memory chips. For on-chip DDR3 controllers, the memory can run at to 800 MHz and the memory controller on the Armada XP chip has ECC memory scrubbing. Marvell has not divulged how much L1 data and instruction cache is on each of the four cores on the Armada XP processor.
The Armada XP chip has a whole bunch of system components integrated onto its silicon, which will make it popular among puny system providers (that referred to the servers as well as the companies making the boxes). The chip includes four PCI-Express 2.0 x4 interfaces and four Gigabit Ethernet controllers etched into its silicon; it has 16 SERDES lanes for implementing USB, PCI-Express, SATA, SGMII, and QSGMII ports on the mobo.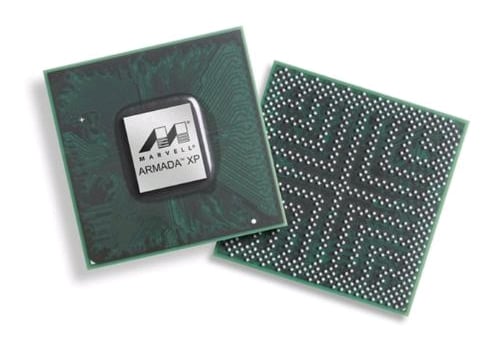 The Armada XP ARM processor from Marvell
Marvell says that the Armada XP chip can support symmetric multiprocessing (where all four cores share the main memory) as well as asymmetric multiprocessing (where the cores and their memory are separated) as well as a mixed mode using what it calls "hardware-based cache coherence."
Operating at 1.6 GHz, the four cores collectively deliver 16,600 Dhrystone MIPS (DMIPS) of performance at under 10 watts of power dissipation. It is hard to say how this will stack up to Intel's low-powered Atom and high-powered Xeon processors for server workloads, but the Armada XP is certainly in the performance range that makes it an interesting contender for simple server stacks and workloads that don't need more than 4 GB of main memory. (For an interesting performance comparison of ARM, MIPS, and Atom chips, check this out.)
What we really need to settle this performance matchup between ARM, Atom, and Xeon is a LAMP-stack bake-off with a real workload or ten. Hopefully when Marvell starts shipping the Armada XPs - and partners start building servers using them - they will come fully armed with such data.
Marvell is starting to sample the Armada XP chips now, and says that it expects uptake among makers of Web servers, network equipment, and home NAS and media servers. In addition to performance of these chips, everyone wants to know what it will cost to slap together an entry server.
That's something that Smooth-Stone, a startup that is still in stealth mode that is working on ARM-based servers, will hopefully shed some light on soon. The server business needs a little more competition to keep it honest. ®