Kingston Technology DataTraveler Ultimate 3.0 32GB
SuperSpeed storage on your keyring
Review The DataTraveler Ultimate is the a natural progression in Kingston's pocketable USB flash drive range. Featuring SuperSpeed USB 3.0 support devices are available in 16GB, 32GB and 64GB capacities. For something likely to live on a keyring, the Ultimate has an impressive performance, which, according to Kingston Technology, will read at up to 80MB/s and write at 60MB/s.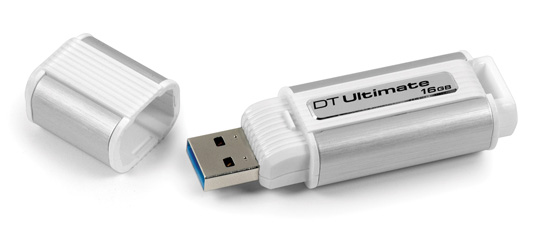 Drive fast: Kingston Technology's DataTraveler Ultimate 3.0
With the introduction of USB 3.0 to the DataTraveler line, these devices are leaving the realm of what is traditionally considered to be a thumb drive and moving into the territory of compact hard disk replacement solid state drives. In fact, the DT Ultimate utilises the same Jmicron JMF612 controller that Kingston uses in its value line of SSDs.
Before jumping to conclusions, it must be noted that the DT Ultimate contains a maximum of four NAND chips, which limits the number of parallel I/O operations the controller can perform. Whilst the basis is the same as that of a fully-fledged SSD, the reduced number of NAND devices will prevent us from seeing quite the same performance. On test is the 32GB drive.
In the performance department USB 3.0 may be a blessing, but in a world where most computers are not yet equipped with this SuperSpeed interface, its advantages won't be realised in most situations. The USB 3.0 spec calls for 900mA of current to be available from each port; while the DT Ultimate does not require the full 900mA from the USB 3.0 spec, it does need the full 500mA from USB 2.0.

Supplied with a Y-connector, as USB 3.0 power demands are higher then USB 2.0
Consequently, devices such as netbooks, which tend not have full powered USB 2.0 ports, will not be able to run the DT Ultimate without the use of a bulky Y-adaptor to draw power from a second port. Such an adaptor is included and will likely need to be carried wherever the DT Ultimate goes due to the likelihood of incompatibility.