The well-known robotics department at Carnegie Mellon university - famed among other things for accomplishments in the field of self-driving cars and for giving the world the 600-tonne automated Godzilla truck - has now been selected to provide an autopilot system for a military flying-jeep project.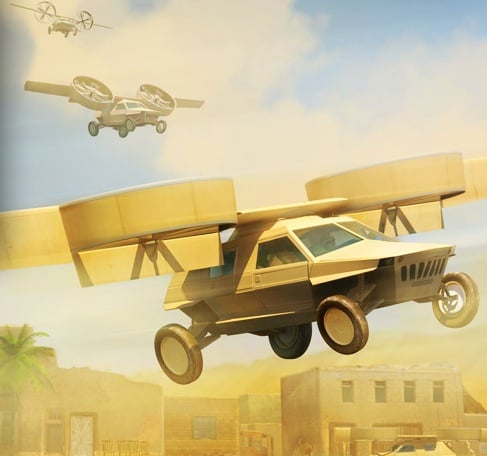 The Marines raced each other to the only parking space
Carnegie Mellon has just announced the $988,000 17-month deal under which it will develop an "autonomous flight system" for the Transformer TX project. Transformer TX is intended to produce a Humvee-like vehicle that can drive on the ground on- or off-road, but also lift off vertically to fly about like a light helicopter or plane - and that's not all.
"The TX is all about flexibility of movement and key to that concept is the idea that the vehicle could be operated by a soldier without pilot training," said Sanjiv Singh, Carnegie Mellon robotics prof.
"In practical terms, that means the vehicle will need to be able to fly itself, or to fly with only minimal input from the operator. And this means that the vehicle has to be continuously aware of its environment and be able to automatically react in response to what it perceives."
That's where Singh and his colleagues come in. The actual airframe design will be either an autogyro jumpcopter or a ducted-fan job from Lockheed (pictured); the powerplant will be a wonder-diesel from Rocketdyne. But the more-or-less hands-off autopilot will come from Carnegie Mellon (working with Honeywell Labs as a subcontractor).
The Robotics Institute at Carnegie Mellon produced the robot SUV named "Boss", which won the DARPA Urban Challenge race in 2007. Singh himself has previously worked on a pilotless helicopter which could fly at low level, avoid obstacles, and choose its own landing site in unmapped terrain.
The Transformer TX project, nominally intended to furnish hoverjeeps to US Marine units too small to have their own aircraft, also comes from DARPA. DARPA is the Pentagon's mad-scientist bureau: it is not so much crazy like a fox, as crazy like a fox whose body has been replaced by a powerful and heavily be-weaponed robotic combat walker unit which the fox's disembodied brain controls from within a bubbling nutrients tank in an armoured housing. ®