Nizhni Novgorod State University
Russians fly 12,000 miles to display cluster prowess
I suggest you set the mood by listening to the Russian national anthem.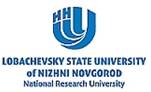 The team from Russia is traveling perhaps the most difficult road to the Student Cluster Competition (SCC). They face a unique set of challenges that serve to make the hill they're climbing just a little bit steeper. While their university has a solid computing and HPC heritage and curriculum, this is their first SCC entry, and they're learning as they go. The educational system is set up a bit differently in Russia than in the West. Skills are taught in different ways that don't necessarily line up with what the SCC requires.
The NNSU team, for example, is composed of very bright students who are deeper in science and math than in computer science. So they begin with a solid foundation in the applications and how they work, but haven't had nearly the hands-on experience with hardware as many of the other teams. Most of the Western teams are comp sci heavy and have members who are reasonably familiar with large systems, which may give them a leg up in this type of competition.
Most of the Russian students also have outside jobs in addition to their full-time course work; making the SCC team is an extra workload piled on top of their already demanding academic and work lives. But they're enthusiastic and committed, and they've come up with a system design that should be very competitive.
To prepare for the competition, the team has been using a cluster located at the Redmond campus of sponsor Microsoft. While you can accomplish a lot via remote connections, there are still times when you need or want to physically interact with the system. The Lobachevsky State team has to rely on others to do this, adding time and extra steps to their tasks. As far as I know, they haven't yet had access to a fully configured cluster like the one they'll be using in New Orleans. Is this a big handicap? Maybe. But from what I can tell, it hasn't dampened the team's confidence or enthusiasm.
They're going to spend a few days at Microsoft prior to SC10 so the students can get more familiar with the system and become acclimated to the time zone -and to American culture, too. I think that this will be the first international trip for the team members, adding just a bit more stress to what is already a stressful situation.
They're going to be working against a language barrier as well, since most of the students either don't speak English or aren't fluent. But they will be very familiar with the discomfort of flying, given the 12,000 air miles they'll log in traveling from Novgorod to Redmond to New Orleans and back.
But the NNSU team also has some factors playing in their favor. They've taken advantage of their access to Russian computing and subject matter experts to help them on their system design, benchmark optimization, and overall strategy. They're making the most of their assets and bringing a strong entry to the competition. They don't complain about their disadvantages; in fact, they barely mention them in passing as they talk about their progress.
NNSU is focused on showing what they can do and proving they deserve to be in the competition. After learning more about this team, I think that their effort is going to raise some eyebrows at SCC and that they will prove to be a very strong competitor.
---
Stony Brook University
Fighting Seawolves look to rock and rule
To increase your reading pleasure, I suggest listening to the Stony Brook fight song as you read the following story. They lyrics are interesting and include the phrase "Don't let go until you hear them scream".

This is the third Student Cluster Competition for Stony Brook. They went to the inaugural competition at SC07, skipped it in 2008, and then returned in '09 to snag the Overall Winner crown. (There is no actual crown, which is too bad.) They're back again this year and looking to repeat.
Working with sole sponsor Cray, Stony Brook has put together a formidable effort. At least a few members from their winning '09 team have returned to help lead the charge at SC10. According to their SCC application, most of the team has significant experience in writing (and tuning, we suspect) highly threaded parallel code.
Every team has some mixture of computer science undergraduates and assorted science and math types. Stony Brook has these too, but also team members who have some pretty specific focus areas like compiler optimization and MPI coding. Other members have significant real world HPC work experience in highly demanding environments. The varied backgrounds and the ability to work with time constraints should pay off in the competition.
The team believes their real strength isn't in hardware or technical skills alone. They cite their ability to work as a team, along with access to large clusters on Stony Brook's campus, as key factors in their success last year. They're looking to use their 2009 win as a springboard to taking the roses again this year. (There are no real roses.)
On paper, Stony Brook puts together a persuasive case. They have to be considered the favorite at this point. But anything can happen and there are definitely going to be some surprises at the competition this year. So will Stony Brook be the first team to repeat as SCC champions? Or will someone else emerge to take the crown? (There still isn't a crown and I'm still bummed by that.) We'll find out in a little more than a week from now.