This article is more than 1 year old
AMD: Opterons to hit 20 cores by 2012
To Bulldoze a Sandy Bridge
Advanced Micro Devices can't beat Intel's wafer-baking process in the ongoing x64 server chip war, so it's going to fight with the weapons it has: higher core counts and better bang for the buck — or watt.
That was the message delivered by Don Newell, the new chief technology officer for AMD's server-chip business when speaking Tuesday at an AMD analysts day in Sunnyvale, California.
Newell was lured away from Intel back in August, and by the time he joined AMD the die was already cast for the future "Bulldozer" cores for high-end PC and server processors and the future "Interlagos" and "Valencia" Opteron processors set for next year. And more importantly, the basic strategy was in place for how AMD will try to take back some hard-earned and recently lost market share from Intel.
Newell said Tuesday that AMD had "the easiest strategy in the market to understand," meaning it had different products to address very different requirements. Some companies running hyperscale data centers are worried about performance per watt and cost, while more traditional companies are more concerned with raw computing power and single-system scalability, particularly where server virtualization and consolidation are concerned.
AMD's Opteron 4000 series for single- and dual-socket servers have lower core counts, lower thermals, and lower costs to meet the needs of the former, while its Opteron 6000 series for two- and four-socket machines satisfies the needs of the latter. SMBs can pick and choose from either of the two different families.
This bifurcation and overlapping of the Opteron product line is not going to change when the Bulldozer products come out in 2011, with kickers in 2012. Newell said that he often joked to his staff that "what we get in 2012 is more cores and less money," and then quickly added that with the 2012 family of Bulldozer-based Opterons, the chips would sport more bandwidth and more performance as well.
Here's what the Opteron roadmap looks like: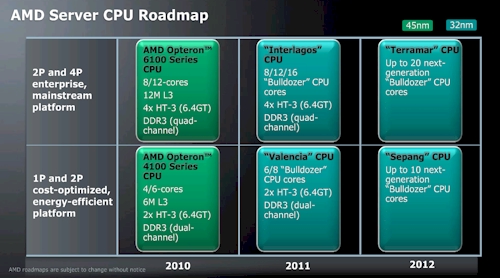 AMD's Opteron server chip roadmap through 2012
As El Reg previously reported, the first generation of Bulldozer-based Opterons are expected to yield around 50 per cent more performance with 33 per cent more cores, which means the per-core performance will go up.
The chips are being baked in a 32 nanometer process that AMD's former fab, GlobalFoundries, has been struggling to get good yields on. We detailed the modular approach that AMD is taking with the Bulldozer designs, and how its definition of a core is getting a little bit fuzzy .
Intel will no doubt complain that AMD's definition of a core is not the same as its own. And the chip giant will be right — but if AMD offers better performance for less money running the same workloads, it won't matter. That is, as long as server makers actually get on board and use the Bulldozer parts — they were a little slow on the uptake of the Opteron 4100s and 6100s this year.
The Interlagos 6000 series chips (no doubt to be called the Opterons 6200s, but AMD has not said that) will come with eight, twelve, or sixteen cores and will plug into the existing G34 sockets that the Opteron 6100s use. Both chips have four HT3 point-to-point interconnects per socket and memory controllers that have four channels per socket.
While AMD did not say this today, the memory controllers on the Interlagos chips will also be able to address more main memory. Current four-socket Opteron 6100 machines top out at 128GB per socket, and that has been as much of a sticking point for server makers as having to shift to a new socket this year for Opteron machines.
The Valencia 4000s series chips will have six or eight cores and plug into the same C32 sockets as the current Opteron 4100s; they have half as many HT3 channels and memory channels (two each per socket).
Looking out into 2012, AMD is going to be asking GlobalFoundries to speed up that 32nm fab and jam more cores onto a die. Newell showed off the top-end "Terramar" Opteron, which will have up to 20 of a next-generation Bulldozer cores in a single processor socket, representing a 25 percent boost in cores from the top-end Interlagos parts, and maybe a 35 to 40 per cent boost in performance if the performance curve stays the same as the jump from twelve-core "Magny-Cours" Opteron 6100s to the Interlagos chips. The "Sepang" Opterons will also come out in 2012 and sport up to 10 cores per socket.
AMD did not reveal any more details on these Terramar and Sepang parts, and has not even yet confirmed that the top-end Opterons will be two of the low-end Opterons wrapped up in a single package — you make an Opteron 6100 by putting two physical Opteron 4100s in a single package and having them share a single socket, and to some ways of looking at it, that makes what AMD calls a four-way really an eight-way.
For AMD to keep its price advantage it is fair to guess that it cannot really make a chip with 16 or 20 cores on it, and that it will indeed put two eight-core and then two ten-core chips in packages to make the high-end Opteron 6X00s of the future.
It will not be surprising to see Intel start to hammer on this, either. Even after Intel did the same thing itself in the past when AMD had the upper hand. None of this matters if the software can't tell and the price is right.
That said, AMD is spoiling for a fight about chip design in a way that it hasn't been since the mid-2000s.
"Bulldozer is a new way to deliver a new kind of performance," explained Newall on Tuesday. "It allows us to decide what parts are to be shared and what parts are to be kept separate. Our competitor has decided that everything should be shared. So multiple hardware threads sit there and contend for all of the resources," said Newall, adding: "It's very strange."
Not as strange as it is going to get, I am sure, with Intel working on its future "Sandy Bridge" and "Ivy Bridge" Xeon processors for servers, and facing an architecture shift in the two-socket space in 2011 that AMD just suffered through in 2010. ®