Rumors of a Google Nexus One resurrection refuse to die.
On Thursday, as noticed by Phandroid, US electronics retailer Best Buy published a page to its website indicating it will soon offer a "Pure Google" phone known as the "Nexus S." The thought of Pure Googleness gives us the willies. But some people find it very comforting: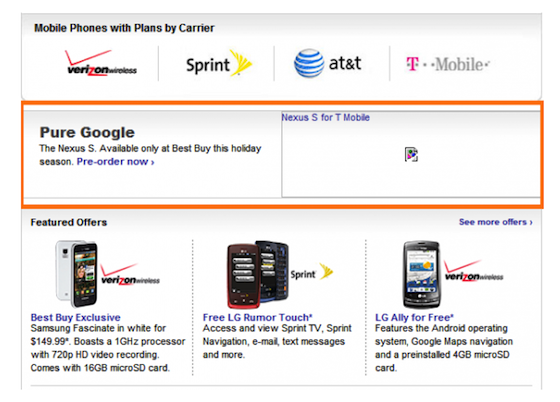 Asked to comment, a company spokesman told The Reg: "We don't comment on rumor or speculation." And Best Buy has now taken the page down. But it appears that like the ill-fated Nexus One, this Nexus S contraption will venture into the world without the sort of custom UI applied to Android phones by manufacturers such as Motorola, HTC, and Samsung. The Nexus One was dubbed a "Google Experience Phone." This is a small thing. But quite important to some.
It also appears that the Nexus S will be offered with service from fourth-place wireless carrier and noted Google BFF T-Mobile. That's the extent of the rumor. And don't expect much more when the device actually arrives. It may share a name with the Nexus One. It may offer a "vanilla" incarnation of Android. But what made the Nexus One the Nexus One was that it was sold from Google's very own webstore. It was an attempt to route around traditional phone channels, and it failed — presumably because existing Android partners such as Motorola and Verzion fought the idea.
The Nexus S rumor joins rumors of a Nexus Two, which lives on despite death by Eric Schmidt. And no doubt some other Nexus rumor will join it. ®
Similar topics