This article is more than 1 year old
Google: Oracle doctored that 'copied Java code'
'And, by the by, Android wasn't built by Google'
Google has accused Oracle of doctoring the code samples that allegedly prove Mountain View pilfered Oracle's copyrighted Java code in building its Android mobile operating system.
Late last month, as part of its ongoing lawsuit over the use of Java in Android, Oracle waved six pages of Android code at a federal court (see below), claiming they were "directly copied" from copyrighted Oracle code. But, on Wednesday, Google responded with a court filing of its own, and among so many other things, Mountain View said that in submitting the code, Oracle "redacted or deleted...both expressive material and copyright headers." Google called these omissions "significant elements and features."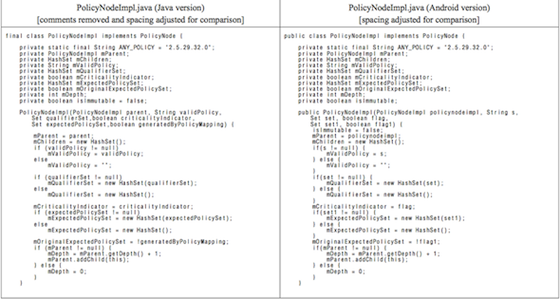 Oracle accuses Google of code lifting (click to enlarge)
In suing Google, Oracle claims both copyright and patent infringement. The six pages of code are meant to buttress the copyright infringement claim. Oracle says Android's class libraries and documentation infringe on its copyrights, and that approximately one-third of Android's API packages are "derivative" of Oracle's copyrighted Java API packages.
In building Android's Dalvik virtual machine, Google used a subset of the Apache Foundation's Project Harmony, an open source project that attempts to duplicate Java SE. When Oracle first waved those six pages of allegedly-copied code, many assumed that they came from Harmony, but according to Apache, this is not the case.
As Groklaw points out, Google's claim that Oracle doctored the code is reminiscent of the infamous SCO v IBM case, when Big Blue told a judge SCO had "edited and rearranged and juxtaposed [two large swathes of code] to give the appearance of similarity when, in fact, no similarity exists".
But even as it claims that Oracle edited the code, Google says that if it did copy Oracle materials, this isn't a problem. Mountain View claims fair use, minimal copying, and independent creation. "The Android Platform...was created independently and without reference to any works protected by the Asserted Copyrights," its filing reads.