Pioneer XW-NAV1 iPod dock and AV centre
Media frenzy
File management
The USB port will let you to play MP3, WMA, JPEG and more importantly standard definition DivX files from a flash drive or an external HDD. Actually it proved capable of playing any AVI file I tried, be it DivX or XviD. Consequently, the cheapo 21in LCD in my bedroom, which lacks a USB port, took on a whole new lease of life when hooked up to the NAV1.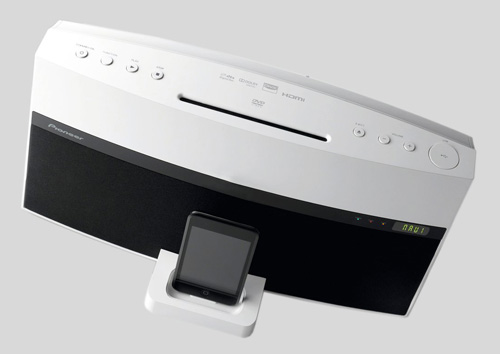 The USB interfacing lurks under the circular cover on the right
If you have video stored on your iPod you can watch that on a connected telly too, but only from the composite connection, not the HDMI output. The USB video playback menu is pretty basic, but I was pleasantly surprised to find that most popular subtitle file types are supported.
As well as playing back video media, the NAV1 can also stand in as a single unit home cinema system, thanks to its aux input. Clearly it's no replacement for a good 2.1 or 5.1 sound system, but it will be a huge improvement on the sound produced by a cheap or old telly.
In fact, the XW-NAV1 is a pretty decent audio performer, no matter what the source, as music played back from an iPod, USB or CD was both clear and punchy. Tests with the DVD of Titanic sounded very impressive, with ample power and ambience and a fine balance between the score, sound effects and dialogue in the sinking scenes. The disc player is commendably quiet too.
With only 20W RMS available, the XW-NAV1 won't fill a large room with music, but it's more than adequate for use in the average kitchen or bedroom. Moreover, the sound doesn't fall apart when the volume is pushed towards the maximum. Indeed, its performance is very much akin to the Pioneer XW-NAC3 I looked at in the premium iPod dock roundup.