This article is more than 1 year old
RHEL 6: serious Linux built for growth
Excitement? We've heard of it
Review Red Hat has released Red Hat Enterprise Linux 6, the first major update for RHEL in over three years.
RHEL 5 debuted in March 2007 and used the Linux 2.6.18 kernel. Although incremental updates have added a number of kernel updates and new features, RHEL5 is starting to look aged. Of course much of the appeal of an enterprise distro is precisely that it ages well - ten years in RHEL's case.
This means that, for all the appeal of what's new in RHEL6, 5.x will still be supported for another seven years.
That longevity also helps to explain some of the new features you'll find in RHEL 6. For example, the staggering hardware capabilities - on 64-bit platforms, RHEL can scale to 128 cores and 2TB of main memory.
Some might find it strange to support systems that don't exist at the moment, but when you consider that Red Hat will still be supporting RHEL 6 in 2020, it starts to make more sense.
RHEL takes the long view and that means starting from a rock solid foundation and supporting systems that don't yet exist.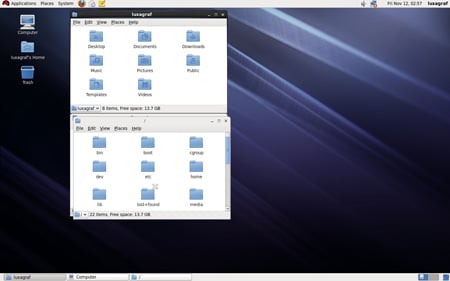 The latest and greatest GNOME not featured here
One of the main goals for RHEL 6 was to make managing virtual servers as easy as managing physical machines, which means the bulk of the new software features in this release are found in KVM. It also means that Xen is gone, though that's hardly surprising since Red Hat purchased Qumranet - creators of KVM - back in 2008.
RHEL 6 builds on the KVM-based virtualization found in RHEL 5.5 and earlier releases, adding a number of performance and hardware support upgrades. Upgrading from old Xen-based disk files is also simple, just boot KVM and point to your Xen loopback disk files and reboot your virtual machines.
Also new for virtual guests is the SELinux sandbox feature, which allows guest machines to run in isolated environments. The new sandbox features can be applied to just about any untrusted code you'd like to execute but is particularly handy with virtual machines.
Big disk options
Another big change in RHEL 6 is the wide selection of disk formatting options, including ext4. You know a Linux feature has arrived when it makes its way to the conservative enterprise releases like RHEL and such is the case with ext4 file system, which is now the default filesystem format in RHEL 6.
In addition to ext4, the XFS filesystem is now supported.
As with previous versions of RHEL, the Anaconda installer offers a variety of pre-configured sets of software packages depending on your needs. For the workstation release that I tested, there were options for the Gnome desktop, a "minimal" desktop, a web development workstation and a software development workstation as well as the bare essentials available in the "minimal" option.
There is also an option to customize your installation further, selecting individual packages. For testing purposes we started with the basic GNOME desktop package, adding the server platform, along with common tools like MySQL, PostGRES, FTP server and e-mail server, as well as the new virtualization tools.
While the RHEL desktop is perfectly usable, if you're a casual desktop user looking for the latest and greatest new toys in Gnome or KDE, RHEL isn't the distro for you - you're better off with one of the many free Linux distros available.