NSFW An online protest campaign is urging air travellers in the USA to observe "national opt out day" on 24 November and insist on their right to be felt up by Transportation Security Administration (TSA) operatives rather than submit to the new nudie perv scanner technology.
It is feared that the protest could overburden the TSA's groin-fondle resources and lead to travel chaos as November 25 sees the USA's popular annual family bonding and gluttony ritual, Thanksgiving - meaning that airports will be busy on "opt out day".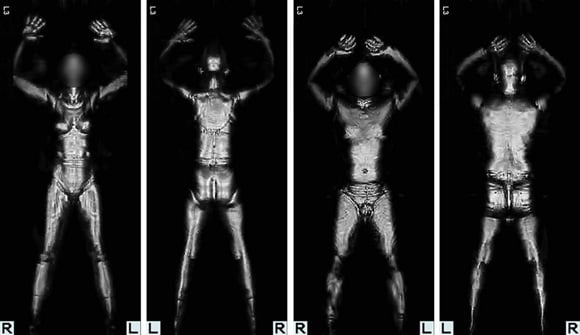 Shiny unhappy people
According to OptOutDay.com, set up by activist Brian Sodegren:
Many people only fly around the holidays and may not be aware of the security changes, which is why November 24 was chosen... Once people are made aware of what is happening, they may have reservations about the new virtual strip searches and enhanced pat downs - especially for their children or spouse or other loved one.
The scanners which have aroused so much ire are of two types, referred to collectively by the TSA as Advanced Imaging Technology or AIT. An AIT scan may use either millimetre wave or backscatter X-ray. Millimetre wave emissions are non-ionising: X-rays are ionising, but backscatter scans are much less powerful than medical X-rays and don't penetrate the skin. A backscatter scanner makes its image by picking up the eponymous reflected emissions from the body, not by picking up the X-rays on the far side of the object scanned as in a medical or baggage system.
Some people worry about the health consequences of backscatter X-rays anyway, but most of the anger is directed at the invasion of privacy implicit in the new systems. Travellers are allowed to refuse an AIT scan, but this requires them to submit to new "enhanced pat down" physical searches in which TSA operatives will touch breast and groin regions with fingers and open palms. Previously they could use only the backs of their hands.
Sodegren hopes that someone will think of the children:
Stand up for liberty, and protest the federal government's desire to virtually strip us naked or submit to an "enhanced pat down" that touches people's breasts and genitals in an aggressive manner. You should never have to explain to your children, "Remember that no stranger can touch or see your private area, unless it's a government employee, then it's OK."
He insists that there is no intention to cause travel mayhem as all America takes to the skies preparatory to the traditional family gorge-a-thon the next day.
"There is no intent or desire to delay passengers en route to friends and family over Thanksgiving," he writes. ®