This article is more than 1 year old
Buffalo USB 3.0 ExpressCard 34
SuperSpeed interfacing for your laptop
While the Buffalo ExpressCard 34 adapter does impact slightly on CPU performance, it seems unlikely it would be noticed by laptop users with 2.5in portable drives that are very likely to be 5400RPM units with smaller caches. Portable USB 3.0 drives inherently lack the performance characteristics to be detrimentally affected by any ExpressCard throughput shortcomings in comparison to PCI card alternatives.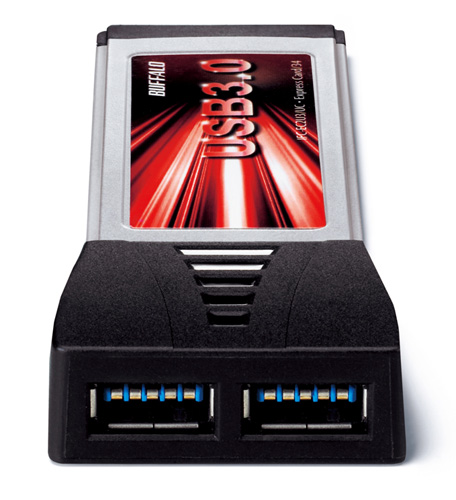 USB 3.0 compatible, but limited by the ExpressCard interface speed
After all, the ExpressCard interface has a maximum throughput of 2.5Gb/s, whereas the SuperSpeed USB specification is 5.0Gb/s. Until ExpressCard 2.0 becomes mainstream – with the inclusion of SuperSpeed USB and a 5.0Gb/s throughput – the limitations of the current ExpressCard specification will effectively cripple all USB 3.0 adapters to half speed.
Still, as the 2.5Gb/s of the current ExpressCard standard equates to a maximum transfer rate of 320MB/s, the desktop drive tests suggest that the shortfall here isn't due to the card interface protocol. Consequently, I wouldn't hesitate to recommend this as a product for those who use desktop-style external hard disks as both the NEC controller and the ExpressCard interface should be more than capable of delivering the full potential of your drives.
Verdict
Buffalo's IFC-EC2U3/UC is a sufficient offering for the SuperSpeed traveller who uses only bus-powered portable drives. Desktop drive users will have to accept a performance hit, but it's still fairly nifty. ®
More USB 3.0 Gear Reviews...

Kingston Technology
DataTraveler
Ultimate 3.0
Iomega
eGo
USB 3.0
LaCie
Rugged
USB 3.0
Buffalo
USB 3.0
PCI Express card

Buffalo USB 3.0 ExpressCard 34
Dual port USB 3.0 ExpressCard 34 adapter to bring SuperSpeed connectivity to laptops.