This article is more than 1 year old
Ten... budget Android smartphones
Low-cost handsets for the hard up
Product Round-up In barely two years, Google's Android operating system has established itself as a serious contender in the smartphone biz. It's different from Apple's iOS not just in its open source nature, but also in its use for both high-end premium handsets like Samsung's Galaxy S and HTC's Desire HD, but also in a raft of budget devices, effectively make the smartphone a handset choice for just about everyone.
There's a feast of social networking, games and other goodies available from the ever-growing Android Market, all of which are compatible with all Android phones, high and low. And better budget versions even come with high-end aspirations, such as HSDPA 3G network connectivity, Wi-Fi and GPS.
If lower end Androids generally seem to be keeping their end up in terms of specs, the corner cutting tends to show in usability issues. Slower processors start to struggle with just a few apps running, casings can feel a bit too cheap in some cases, and screens aren't of the first water.
Considering that many of these can be half, or even down to a quarter of the price of the high spec Androids, they definitely tend to punch way above their weight. So here, in alphabetical order, are the budget Android smartphones most worthy of your attention.
Acer beTouch e130

Budget computer brand Acer's recent move into smartphones has been honourable if not exactly stellar, covering the basics without really nudging ahead of the pack. The Android 1.6-packing e130 bears a passing resemblance to a BlackBerry or Nokia's E-series with its Qwerty keyboard, though it feels a little clunkier and less classy than either. The 2.6in screen is touch-sensitive but resistive rather than capacitive, so it's not the most fingertip friendly, but it does offer an additional navigation tool, which comes in handy, particularly when browsing.
The keyboard is nicely tactile, made of rubberised plastic and the rounded keys are easy to find under the thumbs, though its budget shows in the use of a trackball rather than the optical trackpad featured on higher end Androids and recent BlackBerrys.
The processor is clocked at 416MHz which means it tends to be on the slow side, though its 3.2Mp camera is one of the better cheapie Android snappers.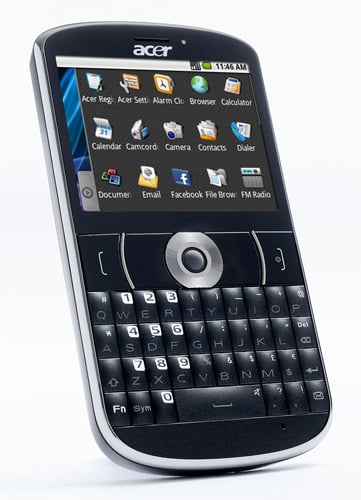 Reg Rating 65
Price £180
More Info Acer
Alcatel OT-980

It's a chunky handful weighing 160g but then it does have a slide-out Qwerty keyboard and bears a passing resemblance to the Blackberry Torch. Its 35 keys feel a wee bit cramped and could have done with a little more definition, but it's still preferable to using an on-screen keyboard.
The 2.8in touchscreen is resistive, rather than capacitive, which is never good, and it's a shame you don't seem to be able to use the navpad to navigate around menus or web pages, which seems like a trick missed.
It's not missing anything important, sporting Wi-Fi, HSDPA and even GPS. Its Android 2.1 installation is only a shade behind the cutting edge, and while the camera's only 2Mp with no flash, it's serviceable enough.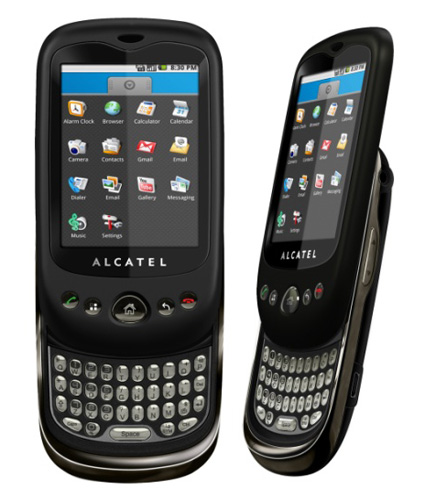 Reg Rating 70
Price £100
More Info Alcatel