This article is more than 1 year old
Google Voice gets going on iPhone
Everywhere is local, if you're an American
Google Voice has finally become available for the iPhone after 18 months of bickering and an FCC investigation. It's also offering free calls within America and discounted calls elsewhere.
Apple has nothing against Google Voice, but it does upset AT&T who can see the voice revenue that pays for the mobile network tumbling. That's why it's taken an FCC investigation to push Apple into approving the application, along with Apple's self-confidence that it no longer needs to appease network operators in order to sell handsets.
Apple never really rejected the Google Voice app, only telling the FCC that it was giving the matter some serious thought and denying that AT&T was actively whispering in a Cupertino ears during the deliberations. Now the deliberations are over, and if you're an American iPhone owner then you can let Google handle your telecommunications needs.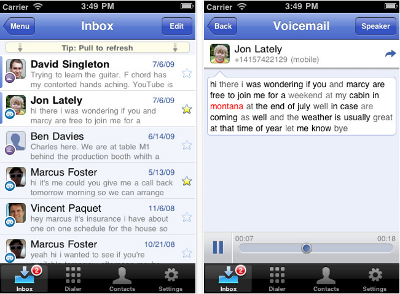 Google Voice will do that by intercepting outgoing calls and connecting you instead to Google's servers, which then connect to your destination using VoIP for the longer part of the journey. Callers get your Google Voice number on the caller ID and you pay Google if the call goes outside the USA.
Incoming calls, to the Google Voice number, are routed to your cellphone over the mobile network, but thanks to the way Americans pay for calls the caller won't have to pay extra for calling your mobile.
In Europe calls to mobiles cost the caller more, and are identifiable by a mobile area code ("07" in the UK). The caller pays a premium for calling such numbers, while the callee pays nothing. In the US mobile numbers use the same area codes as fixed, so the caller pays the same (nothing if it's a local call) and the callee has the minutes deducted from their bundle.
That means Google can forward calls to a mobile phone, from a local exchange, without paying the operator anything (the person receiving the call pays in minutes deducted). However, such a system will have a hard time operating on mobile networks in Europe.
Google Voice users do still consume minutes, but everything is a local call and users can switch calls to their computer when at their desk - reducing the number of cellular minutes they use. At the desk Google Voice uses VoIP and offers video too, but on the phone it still uses voice minutes. This is why it won't work on the iPod Touch (despite the 331 complaints already on the iTunes listing), but that's small consolation to AT&T. ®