Synology DiskStation DS411+ Nas box
Dual core storehouse
---
Review From the outside, the Synology DiskStation DS411+ appears pretty much identical to the DS410n – a fairly heavy duty home and small business four-bay Nas box, reviewed recently. However, internally, the DS411+ is is quite a different beast, aimed at the small and medium business sector.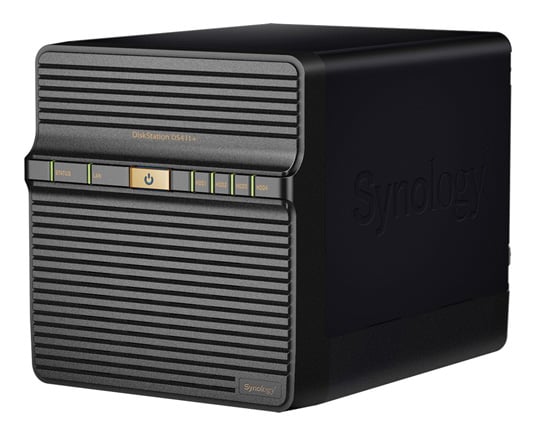 For business and demanding enthusiasts: Synology's DiskStation DS411+
This unpopulated four bay Nas box supports 2.5in or 3.5in Sata drives of SSDs up to a maximum 8TB capacity in total. Powered by a dual core Intel Atom D510 CPU clocked at 1.67GHz and 1GB of DDR800 RAM, the DS411+ is on a par, in terms of processing power, with the rest of Synology's top line products, including the DS1010+ and RS810+.
In terms of features, the DS411+ runs the same DiskStation Manager (DSM) software as all other Synology DS products and consequently sports the same exhaustive feature list I evaluated with the DS410, plus IP surveillance camera support – up to 20 cameras, 512 connections. With the arrival of DiskStation Manager 3.0, however, there are a number of new features along with a new interface.
The old DSM desktop interface was not exactly ideal for the novice user, but it did take away all the layers of obfuscation by presenting everything in a list form. With the new DSM desktop Synology has refashioned the Nas interface to something very reminiscent of the KDE *nix interface. This includes windowed applications and multitasking, making it much easier to perform complex tasks all within one browser window.
The new file browser is intuitive and is capable of handling compressed archives including creation and encryption across a range of formats. DSM 3.0 also brings EXT4 file system support and an upgrade to Linux Kernel 2.6.32.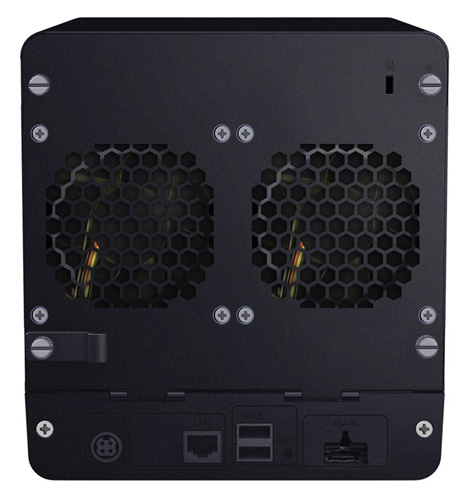 Features eSata and two USB ports for additional devices
Additional changes include updates to File Station to allow file uploads greater than 4GB in size, support for 253 more camera models in Surveillance Station 5, video integration for the DS Photo iPhone app, IPv6 support, and upgrades to PHP 5.3.2 and openSSL 1.0.0.