ViewSonic tempts tablet triers with cash-for-kit deal
Old netbooks exchanged for £££s
---
ViewSonic is offering up to £125 off the price of its ViewPad tablets to anyone who'll swap their netbook for a fondle slab.
The deal isn't quite as straightforward as that, alas. You'll have to buy your ViewPad first - either the 7in or 10in model - and then apply for the rebate online. You have 30 days to claim, and you must send ViewSonic your old machine.
ViewSonic will accept old laptops too, but, as with netbooks, they "must be undamaged - reasonable wear and tear accepted - less than four years old, working and complete with functioning battery, and power supply".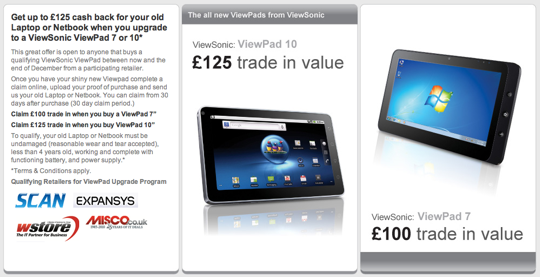 The question is, can you get more than £125 for your old kit on eBay?
Either way, you have to buy your ViewPad from Expansys, Misco, Scan or W Store to qualify for the rebate.
The ViewPad 10, which commands the £125 rebate, typically costs £430, while the 7in version - before the £100 rebate - costs around £400.
Both tablets runs Android - version 1.6 in the case of the ViewPad 10, though that's because it's used as a quick-boot net access OS rather than the primary operating system, which is Windows 7 Home Premium.
The ViewPad 7 runs Android 2.2. You can read the full specs on the ViewSonic website. ®