Violin uses Gear6 tech to make super-fast arrays
'Ang on Avere, we're back in a flash
Violin Memory is using acquired Gear6 NFS caching technology to turn its flash arrays into super-fast access NAS heads.
Violin makes flash arrays, such as the 3200 product, which hold 500GB to 10TB of data in solid state flash memory. A rack full of these 3U boxes scales can hold more than 140TB and does two million IOPS. This is block access though, and the company bought the IP and assets of crashed Gear6 in June so that it could stick NAS file access technology on top of its arrays.
Five months later and here we are with vCACHE. This is rack-mountable product that sits inline between accessing servers and network-attached storage (NAS).
Active data sets can be loaded into the vCACHE, which holds up to 15TB of data. It has up to eight 10GBitE ports and can run at 300,000 NFS operations/sec. Violin claims traditional NAS filers would need 2,000 disk drives in five racks to deliver similar performance.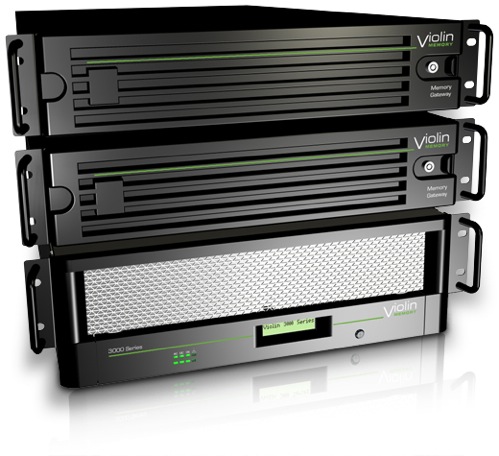 Violin Memory's vCACHE
This idea of an accelerating caching device sitting in front of filers is what Avere does. It has multiple layers and kinds of cache in its FXT product, tailored to different kinds of read and write filer I/Os. There is a 100,000+ SPECsfs2008 benchmark for Avere's kit.
We might think of Avere as using delicate laser-focused I/O type targeting for its technology, while Violin uses "brute force" NAND for all the I/Os. Actually, Violin uses DRAM as well, and the vCACHE has a redundant and clustered design: using "brute force" doesn't make the flash memory maker stupid.
Accelerated Mount Points are made available on the vCACHE systems. Most file reads are handled by the vCACHE and all writes are passed through to the filer. Filer IOPS are increased fivefold or more, and users can use cheaper and slower filers behind the Violin's flash cache. We could think of this, roughly, as taking NetApp's Flash Cache and putting it in a separate box in front of cache-less arrays. Violin's cache would probably be wasted in front of a NetApp Flash Cache'd array, but would be good in front of standard filers, but ones without a tier of solid state drive storage.
It is likely that all filer suppliers will start either putting a flash cache in their controllers or adding solid state storage as a fast access tier in their storage controllers. That way they can get a jump on their competitors and sell product at a higher margin compared to a box filled with slow SATA drives alone.
The vCACHE systems are now available now and priced from $40,000. ®