This article is more than 1 year old
Virgin demands ISPs end broadband speed 'con'
We say, put your own house in order first, Virgin
ISP Virgin Media said today that it wants other ISPs to bring an "end to misleading broadband advertising" by stressing typical or average speeds rather than the infamous "up to" broadband bandwidths they claim to offer.
A good call, but it's case would be strengthened enormously, we'd say, if it had the bottle to do downplay "up to" speeds itself. "Up to 10Mb speed," says the company's website this morning of its own L offering, and its XL and XXL packages are similarly promoted. And not just in the small print - in a big, in-yer-face graphic too.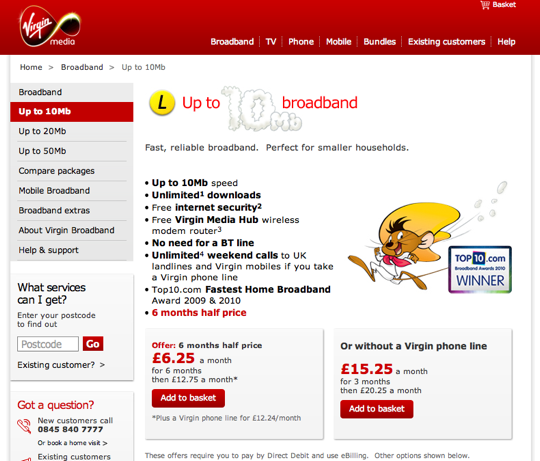 Don't like 'up tos' do you, Virgin?
Virgin describes relying on such headline numbers as a "con" and has even posted a website, www.stopthebroadbandcon.org, to "support the campaign for broadband honesty".
In fact, nowhere on the L, XL and XXL pages on the main Virgin site, even in the small print, does the word "average" appear, yet that's the value Virgin is essentially calling on its competitors to state.
To be fair, Virgin does publish what it claims are "typical" speeds for each of its broadband packages, though the data are accessed through a small text link on its main broadband page tucked under the heading "Why Virgin Media?". The average speeds of each of the its packages are presented on another page still.
Not many - if any - other ISPs provide such information at all.
Virgin wheeled out company founder Richard Branson to say: "I'm challenging all broadband providers to be honest with their customers."
If that means ditching the "up to", Virgin, we challenge you show a lead. ®