As competitors to Apple's "magical and revolutionary" iPad begin to appear, expect Jobs & Co. to argue that a key advantage of their tablet over the Samsung Galaxy Tab, RIM BlackBerry PlayBook, et al. is the vast collection of iPad apps available in the iOS App Store.
Well, yes and no.
There are, indeed, some fine apps available in the sacred store. But as The Reg discovered when we dipped into the App Store to find the 10 smartest and 10 stupidest iPhone apps in the spring of 2009 ... well, to paraphrase Julie Andrews in The Sound of Music: "The hills are alive with the sound of drooling."
So, to separate drool from cool and stupid from smart, here are the 10 smartest and 10 stupidest iPad apps from among the forty-thousand-plus currently available, followed by a collection of not-quite-as-smart and not-quite-as-stupid runners-up.
If you don't have time to click through to each and every one of the 33 also-rans, do yourself a favor and at least check out Postmodernism Generator from among the smarties, especially if you've taken a graduate course in the arts or humanities. And don't miss Fart Studio from among the stupids, if only to see how far the teeming genre of fart apps has evolved.
But first, a quick note: All marketing quotes are verbatim. As I said in my earlier 10/10 round-up: "You just can't make some of this stuff up."
No. 10
Smart: Notes Plus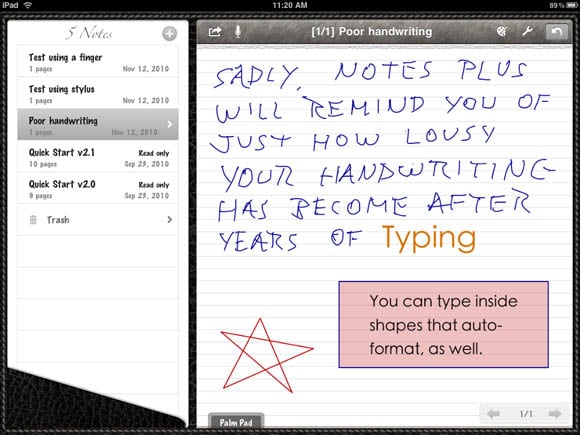 If scribbled notes are part of your routine, Notes Plus can turn your tablet into, well, a tablet
They say: "A powerful handwriting, note-taking tool with close-up writing for small text, stroke smoothening, keyboard text, shape auto-detecting, voice recording, palm handling, PDF exporting, emailing and Google Docs uploading."
The Reg says: The iPad's onscreen keyboard is essentially unusable unless you can set the damn tablet down. If you're standing or walking about, taking notes, you want to treat your iPad like a notepad — actually writing on it, that is.
Notes Plus lets you do just that, whether you use your finger or a stylus such as the Pogo Sketch. In addition, this handy app will also convert your geometric drawings into decent shapes, smooth your letterforms, create PDFs, record sound, and a lot more.
In its current incarnation — version 2.1 — it's a wee bit buggy, but Notes Plus' developer publishes updates at a healthy pace.
Price: $4.99
---
No. 10
Stupid: Bubble Scope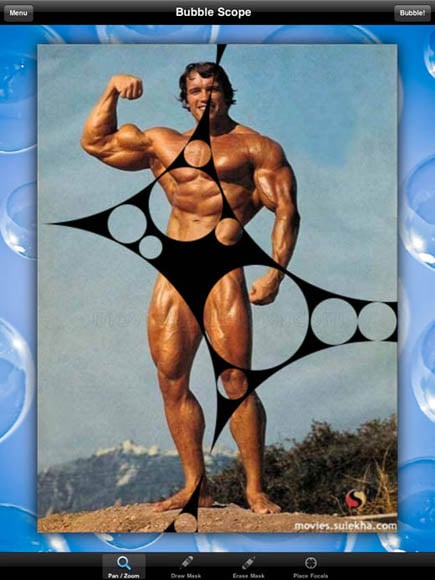 Some bubblers might enjoy Bubble Scoping US politicians into imaginary youthful nudity
They say: "It's here! Bubble Scope creates a fun illusion that tricks your mind into seeing people naked — when they aren't!"
The Reg says: Let me suggest that you add to your long list of "Why would anyone waste their time on that?" the fine art of Nude Bubbling, aka Mormon Porn, in which carefully placed "bubbles" reveal only skin, and a mask layer covers clothes.
The result is an effective illusion of nakedness — well, an illusion effective for 15-year-old boys, in any case.
There are a number of Nude Bubbling apps in the App Store, but I chose Bubble Scope for the honor of tenth stupidest app because it supports the use of finger-drawn masks to partially automate the creation of ersatz naughtiness.
Its "competitors" in this hotly contested field — Bubbling HD iPad Edition ($4.99), bubblemaker HD (99¢), Nu-dot.for iPad ($3.99), and Photo Bubbler for iPad (99¢), among them — make you do all the bubble-positioning work yourself.
Now that I think of it, however, touch-placing bubbles onto images of glossy nubility might actually be fun for certain 15-year-old boys.
Price: 99¢