This article is more than 1 year old
A Linux server OS that's fiddly but tweakable
ClearOS gives 'enablers' more control
Review ClearOS is the new name for Point Clark Network's ClarkConnect, which was a commercial server distro, released in 2000, with a limited free version. Now, though, Point Clark has restructured and the distro is managed by ClearConnect, which has made it free and open source. The result is that what was the top-of-the-range Enterprise edition is now free for everyone – with some small caveats, which we'll cover later.
Name: Clear OS Enterprise version 5.2
Supplier: Free download
Price: Free, and paid support subscriptions available at various prices
Minimum system requirements: Pentium III or better CPU, 512MB RAM, 2GB hard disk
Along with maturity and changes in ownership and name, ClearOS shares another thing with SME Server: it too was originally based on Red Hat Linux and has since moved over to CentOS. If you have some Red Hat knowledge from a while back, the CentOS base may be a good thing – until recently, Red Hat dominated the Linux world, as it still does in large-enterprise type circles, especially in the USA, although hardcore hackers favour Debian, whose spinoff Ubuntu dominates the desktop.
On the surface, ClearOS and SME Server bear strong resemblances. Both have a graphical boot menu but a text-mode boot process, and their installation programs are essentially the same. ClearOS's superior modularity first shows up during the installation, though – you can specify which components you do or don't want installed. This is a win over SME Server: on a machine dedicated to a specific role, you don't really want unnecessary code cluttering up your drive, complete with its potential security vulnerabilities. The small downside is that with all its options enabled, ClearOS was much slower to install.
The only option selected by default is a graphical system console. If you select this, the server boots into a GUI with no window manager or desktop, just a full-screen Web browser which automatically loads the login page for the web-admin console. This goes against the grain for Unix veterans, but it looks a little friendlier to those more used to Windows servers. Oddly, the web browser is "Gran Paradiso", a beta version of Firefox 3.0 from 2007. The server can be administered either from its own console or remotely from any workstation using a web browser by entering its IP address or name, which defaults to system.clearos.lan. If you remove the graphical console, it uses a text-mode web browser to permit basic admin to be done on the server itself.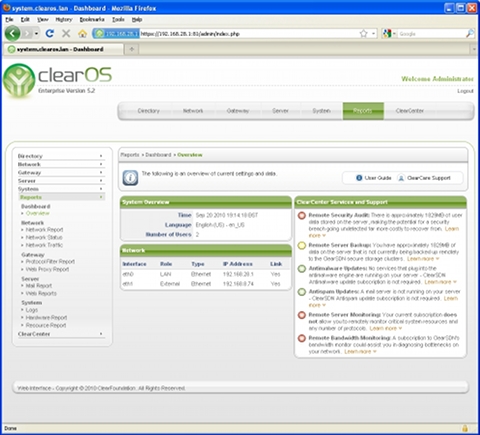 ClearOS's dashboard is clean and offers dynamic server info
Although it's a little more elegant-looking than SME Server's, ClearOS's web-based admin interface is rather more complex, too – but then, ClearOS is a rather more complex product. A sidebar down the left hand side holds all the main options, which expand and contract automatically as you click through the options: Directory, Network, Gateway, Server, System, Reports and ClearCenter. Curiously, all the same options are duplicated across the top of the dashboard as well, where they become drop-down menus. Some of the headings are less than immediately intuitive – for instance, the vital "Users" section is under Directory, along with groups and "Domain" settings – but the latter doesn't contain the settings for whether your ClearOS box is a Windows domain controller or not. It will take a little while to become familiar with the interface, unlike SME Server, which is barely more complex than a router.