This article is more than 1 year old
NASA's new 'Bullet' airship to fly from Moffett Field
Uses tech from US Navy's zeppelin aircraft carriers
An Alabama firm building a 235-foot airship says that the mighty craft will soon make its maiden flight from Moffett Field, the former US Navy dirigible base located at NASA's Ames campus in California. The "Bullet™ Class 580", interestingly, uses a key technology employed by America's flying aircraft carrier airships of the 1930s.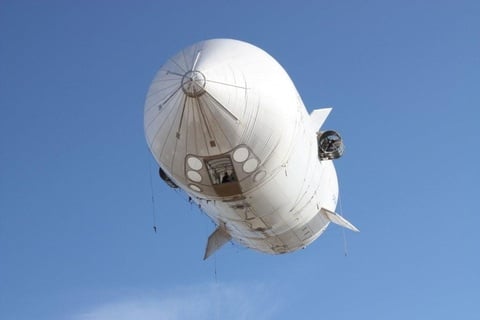 How have the mighty shrunk.
According to an announcement issued this week by E-Green Technologies, the Bullet has now undergone a second successful inflation inside a colossal shed in Alabama normally used for agricultural shows (capable of holding up to 1500 cattle). The ship will shortly be packaged for overland transport to California, where it will once more be reinflated and make its "near term" first flight "at NASA's Ames Research Center, Moffett Field, California".
Moffett Field is named after Admiral William A Moffett, a pre-WWII US Navy officer who was a great supporter of naval aviation - in particular of airships. He oversaw the construction of the famous ships USS Akron and USS Macon, titanic rigid vessels almost 800 feet long which carried embarked air groups of biplane fighters which they could launch and recover in mid-air. Both were based at Moffett Field.
Apart from their internal hangars and "trapeze" gantry for launching and recovering planes, another noticeable feature of the two ships was their use of helium lifting gas. This was unusual at the time: the other main airship nation was Germany, and the USA, which controlled the world supply of helium, declined to supply any to the Nazis or the Kaiser's zeppelin fleet before them. Thus most ships used hydrogen, which was dangerously flammable and explosive but had the virtue of being cheap.
The US ships' use of costly helium meant that they needed to avoid venting off precious lifting gas whenever possible. However, in the natural course of events as an airship burns fuel in operation it becomes lighter and more positively buoyant: all other things being equal it will need to vent off lifting gas to make a landing after a voyage.
Thus the Akron and the Macon used condensers to recover water emitted from their engine exhausts, so gaining ballast to make up for burned fuel. The Bullet 580, tiny modern successor to the leviathans of old, will also use "water condensate" recovery to deal with the static-lift issue. The ship also has other features which differentiate it from everyday blimps of the sort operated by Goodyear: full details here.
Once it has flown, the intention is for the Bullet to go to work for NASA carrying survey payloads and suchlike: the space agency has already made occasional use of the privately owned German-built "NT" semi-rigid zeppelin Eureka, already based at Moffett, in this role. E-Green is full of ambition for successor craft, which the company says will tackle "heavy lift" and 65,000-foot-plus high altitude applications.
For now, though, the firm is behind schedule on the Bullet 580. First flight was supposed to take place during the past summer. ®