Street View hits 20 German cities
Partial surrender to Google's all-seeing eye
---
Twenty German cities yesterday partially surrendered to Google's Street View, as the Great Satan of Mountain View finally rolled out the results of its spymobile invasion.
During extended arm-wrestling with the German authorities, Google agreed to allow citizens to request their properties be blurred before the service went live.
According to Spiegel Online, 244,000 burghers of cities such as Berlin, Hamburg, Frankfurt and Munich decided to opt out. Here's a random example, grabbed in Berlin: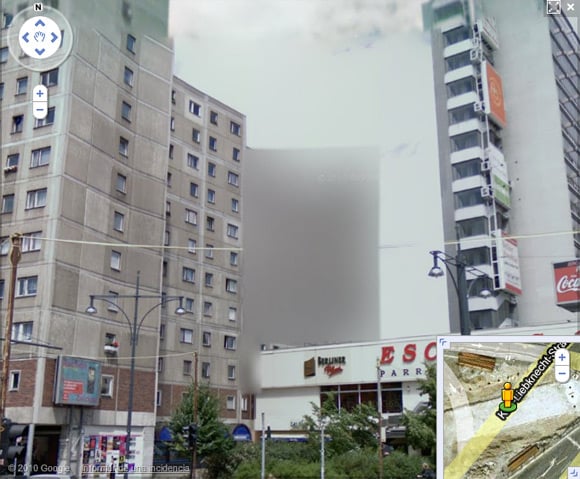 Google explains: "In this latest Street View release, we're also making some improvements to the way we obscure images of houses, cars or people when asked to do so using our 'Report a problem' tool.
"Our new manual blurring process completely blocks out a house, car or person, but no longer cuts out all the surrounding scenery as well, such as a nearby street sign or trees. This enables us to respect requests for removal without blacking out the entire area."
Well, that's not entirely true. Spiegel Online spotted that Google has seriously obliterated its own Munich HQ, in the process taking out some innocent bystanders: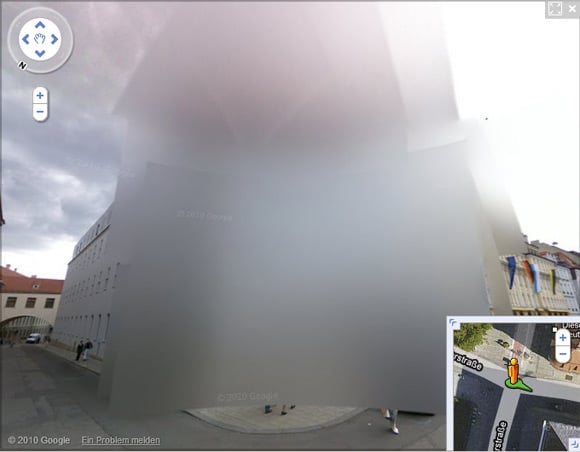 The Lat Long Blog says that this blurtastic new process is available in all Street View locations. It asks concerned people "to use the 'Report a problem' tool and we'll review all requests promptly".
Spiegel Online says the 244,000 households currently blurred represent just three per cent of the total. That's Google's calculation, and the paper notes "it would seem to be a relatively small figure, especially given the controversy and the fact that some polls showed that more than half of Germans oppose Street View". ®