Product Round-up What do you remember about being twelve? I remember spending a whole summer wishing I could hang out with the cool kids but instead nicking stuff from Woolworths and ramming coin after coin into Dragon's Lair and Defender.
Seventeen? Sometimes I ponder my misspent youth playing pool in Sneaky Dee's and ramming coin after coin into Street Fighter while waiting for the pool table. It didn't matter that the graphics were basic - these games were addictive because of the simplicity. High-score name-check FTW. The only arcade action I get these days is shooting aliens at the cinema but luckily when I get all nostalgic the web is on hand with the arcade classics just a click away.
And don't worry, it wasn't just me that put Woolies out of business.
Taito/Midway Space Invaders

Did you get leg and back cramps sitting round that bloody table, hunched over for hours on end without so much as blinking? I know I did. Using just a single laser, this game managed to wipe out all competition and become the first coin-op video arcade game to go global. Trying to defeat a sheet of alien invaders who marched from side to side, slowly but threateningly advancing on Earth may have made for a very simplistic game, but it was incredibly addictive. Each time you wipe the lot out you get another army but one row closer, creating a no-win situation that you still couldn't tear yourself away from - arghhhhh! Shoot down the fast spaceship flying across the top to up your high score.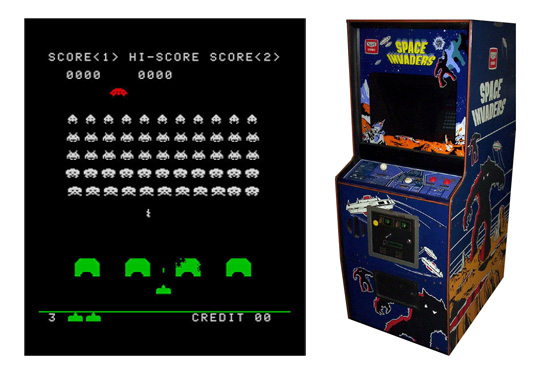 Namco Pac-man

I hate that maze – it's eaten too many hours of my life. Desperately fleeing from the four ghosts coming for you, I still remember the sense of relief when you get a pill and know you can switch on them. I don't know why this game makes my heart pound but it does. Maybe it's the lightning-fast pace making your hand-eye co-ordination look like that of a sloth. The fact I have this on my iphone too - and I know I'm not the only one - shows its lasting appeal. Wakka wakka wakka.