Get out the bar, your plane's leaving
Airport meets RFID the 13th
---
The selfish sods who hold planes up by lingering in the bar or duty free can now be pinpointed, within 4m, by cheap RFID tags on airline boarding passes.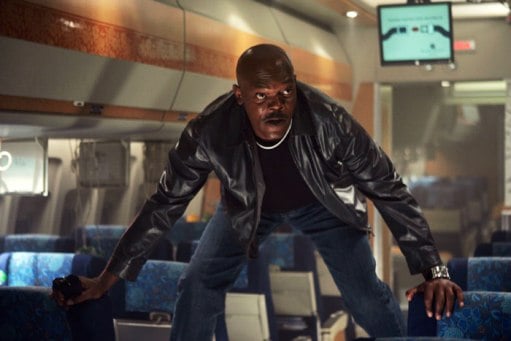 Enough is enough! I'm gonna tag every motherfucking snake on this motherfucking plane!
What the airline does with the information can then depend on passenger status – you're either phoned or personally escorted from the business lounge, or your crappy suitcase doesn't even make onto the plane.
The development is significant because standard commercial readers of the passive RFID tags can have an accuracy rate as low as 77.5 per cent, and have a very limited reading range. Technology developed by the TINA (The INtelligent Airport) project has succeeded in getting 100 per cent reading accuracy, in an area of 100sq m, to within 4m of a tag. The coverage of 100sq m is much large area than has previously been achieved.
TINA is a collaboration between the University of Cambridge, University College London (UCL) and the University of Leeds, and a number of industrial partners. Professor Richard Penty, of the project and Cambridge University, points out that 10 per cent of all airport delays in the UK are down to passengers not boarding the plane on time. "If you have to wait or off-load baggage its very expensive. You can lose your take-off slot."
Penty jokes that though active RFID tags are used with expensive cargoes, even RyanAir wouldn't baulk at spending the few pence it costs for passive RFID tags to track "lower value items" such as passengers. Its also likely you'll soon be able to commercially print passes with the chips embedded.
The dream is for airport displays to change as a passenger approaches, displaying information about their flight, or a targeted advert. Penty says corridors could carry readers dotted along their length, giving enough "information to know where passengers are and whether they'll be late for their plane."
The TINA project was created in order to develop a distributed antenna system to provide the wired and wireless infrastructure for next generation airports. See the story here. The system can also supply the 1W needed to power the RFID chips.
Once the TINA crew cracked IDing 100per cent of the tags they felt the results were too slow. Penty says that when you're rewarding quickly you lose accuracy. Fortunately, as Intel make the firmware and transceiver for an RFID reader (the Intel R1000), this allowed the TINA team to do a bit of modding, but not as much as they'd like.
The project has demonstrated 100 per cent accuracy at 100 tags per second. "We can do several times faster once we can access the chipset opcode," says Penty.
For a comparison, the team have been putting themselves against commercial RFID readers which have been achieving 36 tags per second with 77.5 per cent accuracy. Over the 100sq m the commercial readers are managing 55 per cent accuracy within 4m, compared with TINA's 100 per cent.
An interesting aside here is that though using passive RFID chips and readers is much cheaper than using barcodes and scanners for checking baggage, the historical lack of accuracy of current systems has made it pointless to use. That hasn't stopped a small number of doing so. Hong Kong International Airport (HKIA) is the biggest to have gone RFID, joined by Milan Malpensa and Lisbon. Heathrow has investigated it but decided not to go ahead.
"If you have to intervene with one in 10 items manually, it's expensive and not worth doing," says Penty.
HKIA is part of the TINA project, probably hoping to get the RFID element rolled out sharpish.
Penty was discussing TINA's work at UCL's Crime Science Conference. For security purposes the RFID tags can check who is going through secure areas, or running, or going against the flow of passengers. The information can trigger security staff to monitor CCTV of the areas identified.
The TINA project hasn't yet agreed a trial but are in discussions with airport operators and other sectors, as well. ®