Orange teases with cut-price iPad offer
Yours for £200 on contract, apparently
---
Orange and T-Mobile are to discount the iPad to just 200 quid, it has been claimed.
The quid pro quo, says London business freesheet City AM, which made the claim, is signing up for an 18-month or two-year contract.
Orange has just posted the following promo: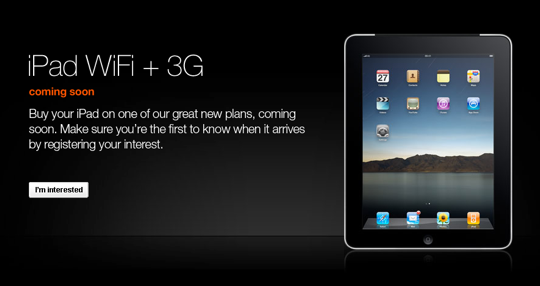 The network told Reg Hardware: "Orange... will offer new purchase options for iPad users, including more affordable prices when purchased with a data service plan, for iPad with Wi-Fi + 3G models in the coming months." [our italics]
This is the latest in a flurry of carrier-related iPad stories making it into the mainstream press over the past few days.
Girls'n'gadgets mag T3 today staked its reputation on the rather bizarre claim that Apple will release the iPad 2 before Christmas after being told so by a mole allegedly from within one of the UK's carriers.
The Sunday Telegraph yesterday reported that the iPad will gain a built-in Sim card and be sold through UK network operators - even though the same report claims said operators have refused to accept an iPhone with an integrated Sim.
The integrated Sim malarkey is nicely debunked by The Register's Bill Ray.
The Sunday Telegraph further weakens its credibility by stating that the 'new' iPad will lose its Lock key, replaced by a Mute switch. Reg readers will know this already - it's been part of the iOS 4.2 feature set for months.
What can we draw from all this? Orange and T-Mobile will offer heavily subsidised but locked 3G iPads in the coming weeks. They will run iOS 4.2, which is due out this month, but will not be second-gen models.
Does it have an integrated Sim? It's possible, but would Apple really go to the trouble - and cost - of re-tooling the iPad 3G internals just to suit a UK operator?
If Apple is doing so for its own reasons, surely it would be more cost-effective to design it into the iPad 2 rather than tweak an existing product? That might point to a new iPad coming sooner rather than later but for the fact that such an important launch would surely involve getting Steve Jobs in front of cameras now, before Americans flock to the shops for the Thanksgiving spend-a-thon? ®