Erotica 2010: One big Teese, and a bit of a flop
Not so much hard as a little bit wet
---
NSFW Whether it was the cold or the recession, Erotica 2010 – the 15th year of the international sex exposition – appears to have ever so slightly wilted.
It is not exactly shrivelled, but is a little smaller; not the proud, thrusting standard-bearer of the UK's adult erotic industry it once was.
A quick totting up through the programme suggests around 20 fewer exhibitors than two years ago.
That's not quite the official line, however, as an advance statement from the show's organisers proclaims: "More than 150 leading companies from all aspects of the sex and adult entertainment sectors will be represented at the three-day love fest, which is expected to attract around 60,000 and generate £12m in revenue".
According to the sales and marketing manager for the event, "the average spend per attendee is around £200".
The marketing manager said: "People shop till they drop. All the latest gadgets and gizmos are on show and on sale. We keep Duracell in business".
Well, not exactly.
By comparison with previous shows, this year's Erotica was distinctly thin on the ground as far as erotic implements were concerned. That may have had something to do with the absence of lovehoney – the UK's largest online adult store – but also missing from the main show space were many of the day-glo and ludicrous vibratory toys.
They were there, but relegated to the back rooms. This left the main show filled with items that were sort of erotic, but mostly in the way that a blancmange is erotic: sexy if you're into that sort of thing, but otherwise puzzling.
There were stands that promoted state-of-the-art plumbing – jacuzzis and shower cubicles that shot water at you from every angle; there were stands selling comfortable beds; and there were stands selling chinaware decorated with stylised penises and vaginas "to shock the mother-in-law". On the whole, the event felt like an increasingly sex-free sex show.
Sexy holidays and bondage racks
All of which begs the question of what exactly a sex show is meant to look like. After all, if you were into swinging, there were several stands prepared to sign you up and whisk you off to exotic climes. The French Connection was offering the delights of southern France, SDC was offering swingers'cruises around the Mediterranean, while B4dating was there to promote its website and the joys of swinging in Belgium.
As one slightly under-dressed lady on their stand explained: "You'd be surprised how much kinky wild swinging people there are in Belgium."
If you're looking for bondage furniture, then organisations such as Mistresses of Metal would be more than happy to relieve you of a cool £3,500 for their "chainber" bondage bed – or slightly less for their ribcage, offering, as they put it, "secure submissive storage for all your toys".
There were corsets and vintage clothes. There were garments made out of various extraordinary fabrics, from rubber to chain mail and leather. This year, too, saw the return after almost a decade's absence of leading latex designer libidex, there to put on a fashion show as well as sell their exceedingly shiny clothes.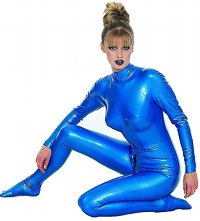 Shiny happy, well-insulated people
There was erotic candy and erotic body paint (chocolate-flavoured, of course!). There were erotic candles, which doubled up as massage wax – and there was Shunga "sweet snow", a "fully edible" body powder, with feather added for extra erotic impact, exclusively available through erotique boutique. A similar effect might be obtainable, for a good deal less than the £20-plus per tub asking price, by taking a sander to a handful of old-fashioned sherbert lollies, which the "snow" most resembled, taste-wise.
Yet again, a glittering procession of acts – from pole dancers to zentai dolls - took to the stage at the heart of the show, with pride of place for the inimitable Dita von Teese. Sadly, we are unable to bring you any pictures of her act, under pain of a penalty fee of $1m, which all journalists were required to agree to before entering the hall!