Samsung net tellies get new movie marketplace
Acetrax added to on-line options
Samsung has joined the Acetrax party, adding the on-demand video supplier to its Internet@TV platform. The Acetrax Movies app will be available on Samsung connected televisions throughout Europe from today.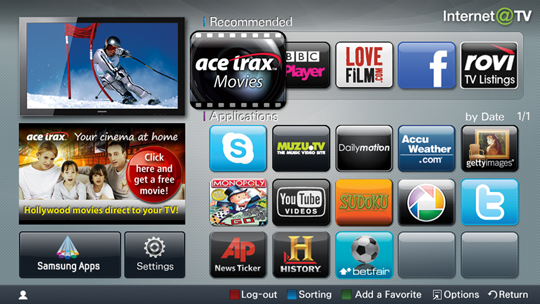 Acetrax not only offers movie rentals, but purchasing too. There's no subscription either, just set up an account, and pay for what you use and this can all be completed in-app from the TV.
Currently, only SD content is available, with Acetrax shrinking files of around 16GB supplied by the movie studios to around 1GB using the VC-1 advanced profile codec. For home viewing the recommendation is a 2Mb/s connection although the service demo'd quite happily on less than half that.
Provision for HD and 3D content is anticipated next year, but the service will perform a bandwidth check, so if your ISP isn't up to snuff you won't have access to this content.
During the course of the year, smart TV has been rather overshadowed by the push for 3D TV uptake, which, in terms of sales, has proved rather underwhelming. 3D spectacles aside, it seems that the real consumer hunger lies in services. The BBC iPlayer, YouTube and LoveFilm are fast-becoming standard issue on Internet TVs, with Panasonic adopting Acetrax this summer as an addition to its own VieraCast on-line viewing portal.
Indeed, the Acetrax pay-as-you-goggle model has more of an iTunes approach to it, as it's really a shopping experience, rather than a service commitment. When renting, how long you get to view a film is all down to the likes of Paramount and Warners. They're all just trying things out but Sony Pictures' 48-hour viewing from the moment your press play seems likely to become the norm.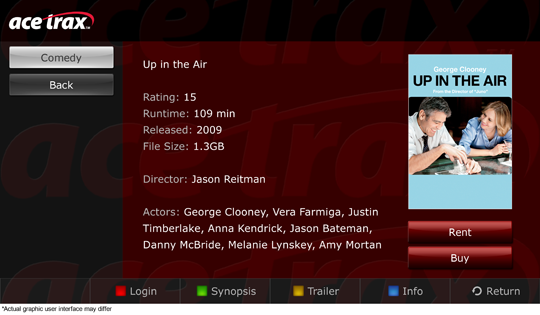 Furthermore, you're not just limited to watching content on TV, as this can be shared on up to four devices, such as a laptop, mobile or Blu-ray player. Although laptops can download movie files, the TV option doesn't actually store any content, purchases are stored in the cloud and listed in the My Movies section of your Acetrax account.
Acetrax is also the engine behind Samsung Movies – it's that popcorn icon that appears on the Galaxy Tab. However, the content offered on this particular mobile app is more limited, Sony Pictures being a noticeable absentee.
From today, the Acetrax Movies app on the Samsung Internet@TV platform offers access to over 2,000 movies. Rental is from £1.99 to £3.49 with owning costing between £4.99 and £10.99. A TV serial will cost £1.99 per episode or £14.99 for the series. Anyone splashing out on a new connected Samsung television will get a free blockbuster movie when registering on Acetrax. Yup, that works out as £3.49 off your telly. Form an orderly queue please ladies and gents. ®