Tablets out of the way, we now come to Acer's other big launch: a 14in laptop with a virtual keyboard.
Yes, the Iconia - as the new machine is dubbed - sports a second LCD where the keyboard usually goes, giving the laptop the look of a scaled up Nintendo DS or Microsoft's ill-fated Courier two-screen tablet.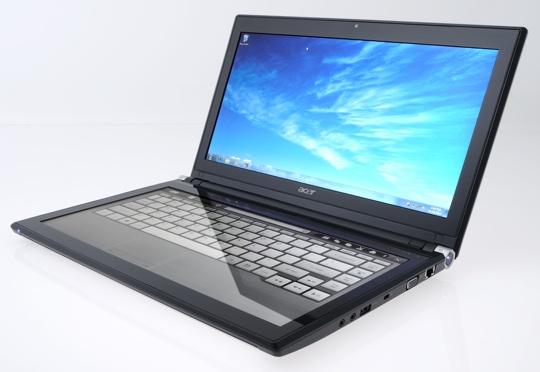 Still, the spec is impressive: Core i5 CPU - 480M, 560M and 580M options - up to 4GB of DDR 3 memory, 320-750GB of hard drive storage, a USB 3.0 port and two USB 2.0 ones, HDMI output, 2.4GHz 802.11n Wi-Fi, Bluetooth 3.0 and HSDPA 3G connectivity.
You're looking at a battery life of around three hours with the Iconia's 44Wh, 3000mAh power pack, which is not so impressive, and neither is the Intel integrated graphics that will drive those two 14in, 1366 x 768 touchscreens.
The lower one can detect ten simultaneous touches. Both are protected with highly glossy Gorilla Glass. You'll spend more time polishing it than typing, we reckon.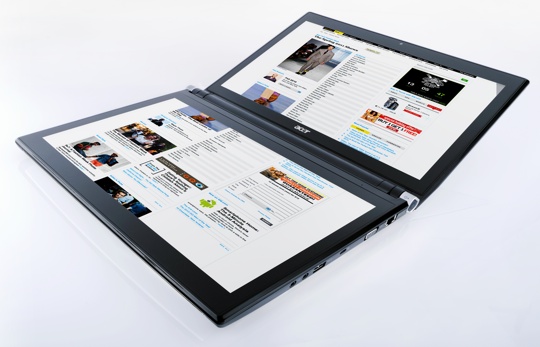 Acer describes the Iconia as a "concept", but the spec is more detailed than you'd expect a prototype or notional design to sport, so this is a range that will be coming to market, though at what price is anyone's guess.
Ditto when Iconia will come to market. ®
Similar topics