This article is more than 1 year old
Assassin's Creed: Brotherhood
Taking the hit
Review It seems odd to complain of a sense of déjà vu when playing a sequel, especially when the game in question is the third in a highly successful series. But when that déjà vu pervades through twenty hours of gameplay, as it does in Assassin's Creed Brotherhood, it's difficult to ignore an overriding sensation that comes to define the experience.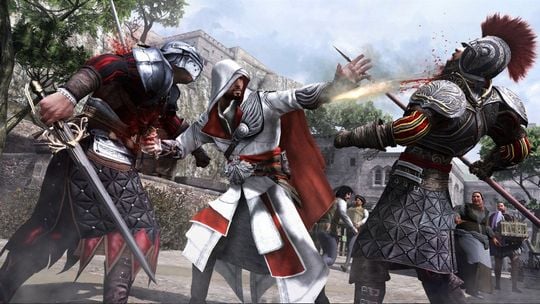 Pain in the neck
It's not even a sensation that creeps up on you over the course of the game. Picking up from where Assassin's Creed II left off, Brotherhood immediately contrives to rob you of everything you worked so hard to attain first time around. In a disappointing concession to new players, the murder of Ezio's uncle and sacking of his Moteriggioni villa by Borgia forces leaves you penniless and, more importantly, stripped of your abilities, forcing a retread of ACII's notoriously protracted tutorial.
The sense of déjà vu is most overbearing during these opening few hours, as the game flits between the early 16th Century and the series' thinly-sketched and increasingly superfluous 21st Century Matrix-style component. Even the move to Rome's sun-baked environs – although a welcome change of scenery from ACII's well-parkoured rooftop action of Venice and Florence – fails to inject Brotherhood with sufficient novelty.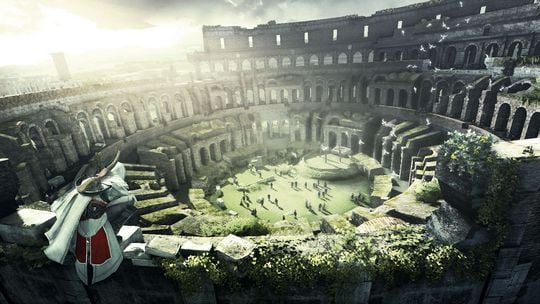 When in Rome
The game also suffers from unnecessary padding. Where missions in other games might require you to spend ten-minutes traversing dimly-lit catacombs, Brotherhood demands you spend twenty. And where they might require you to locate and pull two levers to open a door, Brotherhood demands you find four. Only the vastness and beauty of Rome, and the breadth of Ubisoft's sandbox diversity alleviate the bloated tedium of these introductory missions, the only notable exceptions of which result from the return of ACII's economic system.