This article is more than 1 year old
Assassin's Creed: Brotherhood
Taking the hit
Roam the city
That system sees the renovation of the Moteriggioni villa amplified to the renovation of Rome itself. But this time there's a slight twist. Under the Borgia, Rome is divided into twelve districts, each controlled from a garrison tower. To renovate districts, Borgia influence must first be expunged by assassinating respective district Captains and burning their towers. Once destroyed, districts open for business, and you can begin to renovate blacksmiths, banks, tailors and more to increase revenues and unlock new items and weapons.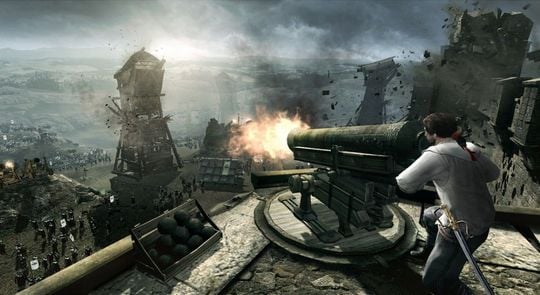 Lookout!
The first half-dozen of these Borgia tower missions prove the game's greatest challenge. Their mix of stealth, parkour pursuit and out-and-out combat provide a stringent test of your nascent skills. But their challenge – and indeed that of all Brotherhood's remaining missions – diminishes rapidly as you reclaim more of Ezio's abilities.
The addition of Execution Streaks when fighting not only cheapens combat, but entirely obviates weapon upgrades. Similar to Batman: Arkham Asylum's CQB mechanics, these one-button instakills allow you to dart between enemies, stringing together dozens of executions with minimal effort, regardless of weapon choice. Initially thrilling, Execution Streaks ultimately prove too deadly and too easy to pull off, rendering combat repetitious and more powerful weapons superfluous.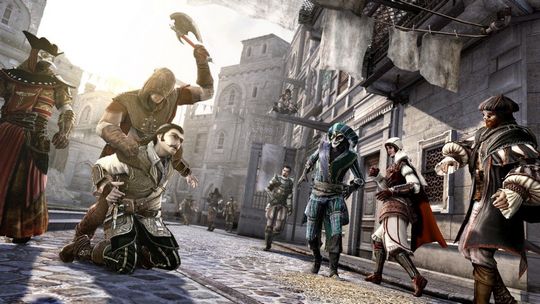 Axes of evil
Infiltration missions also become too easy. Once purchased, the crossbow removes any need for stealthy circumvention and surreptitious take downs. Where ACII demanded patience and keen observation of enemy patrol patterns to avoid detection, Brotherhood's long-range, silent killer simply requires you to pull the trigger from afar.